One of Brabender's major exhibits at the CHINAPLAS 2014 was the Plastograph EC plus, an economical table-top version of the universal torque rheometer Plasti-Corder Lab-Station for applicational investigations or processing tasks in laboratories and simulation.
With its digital 3.8kW motor, a torque measuring range of 200Nm and a speed range from 0.2-150 min-1, the Plastograph EC plus is one of the best measuring drives for practice-oriented measurements with the Brabender series of 30 and 50 measuring mixers, Planetary mixer P 600, measuring extruders type 19, and the conical twin screw extruder.
"China is one of those growing places that offers an awful lot of opportunities for the plastics industry," confirms Richard F. Thoma, Global Business Director, Chemical Division, Brabender. However, he admitted it is only recently that the country is placing an emphasis on research needs, product development and quality control.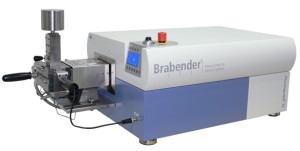 Sensing a huge potential in China, Brabender aims to increase its presence here by coordinating collaborations with universities and institutes, described by Mr. Thorma as "developing relationship at the grass root level".
"We hope that these young engineers, who had good experience with our equipment in schools, will be able to bring that message to their future employers," he explains. "One of our current partners is the Shanghai Jiao Tong University, which is involved in some cutting edge works in composite studies utilizing our equipment."
Brabender celebrated its 90th anniversary last year, which began its business as making measurement process instrument for the food industry back in 1923.
"To celebrate our 90th anniversary last year, we organized a contest at K 2013 to look for the oldest Plastograph that is still in operation," says Mr. Thoma. "We managed to find one that was produced in 1961! It is a testament to how well we build the product."