Bond-Laminates GmbH, a wholly owned subsidiary of specialty chemicals company Lanxess, is expanding production capacities of its Tepex lightweight plastics at the Brilon site, Germany, by around 75% in the period up to summer 2014.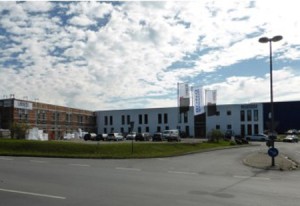 A total of 1,300sqm is being added to the building complex in Brilon, comprising a new production hall and supplementary storage areas and office space.
"The cars of the future will have to meet the strictest of standards, not just in terms of safety and design but also in matters of fuel consumption and environmental compatibility," says Werner Breuers, Member of the Lanxess AG Board of Management. "That is why one year ago we acquired Bond-Laminates, and in particular its innovative Tepex lightweight plastics, to expand our product portfolio to meet the megatrend of 'Green Mobility'. We are expecting strong demand in the long term and are further investing in this area of business."
Tepex is the fiber composites produced by Bond-Laminates. These primarily comprise thermoplastics that are reinforced with fibers of various other materials such as glass or carbon, depending on the field of application.
As said, Tepex products are characterized by their high strength and stiffness, while also being extremely lightweight and economic to process. They are used in the automotive, sporting goods and electronics industries among others.One example of the use of Tepex in the automotive industry is in the Audi A8, where the lightweight plastic is featured in the lower beam. In addition, the fiber composites from Brilon are also employed in the production of seat pans, front passenger airbags and car brake pedals.
In the sports sector, the materials are used in the soles of modern soccer shoes, in bike components and in kayak, snowboarding, cycling and ski helmets. And in the electronics industry, extra-thin and robust Tepex sheets with an optically attractive surface are used in battery housings for smartphones, while in loudspeaker cones top layers made of Tepex help generate impressive sound experiences.
Source : www.adsalecprj.com/Publicity/MarketNews/lang-eng/article-67008987/Article.aspx