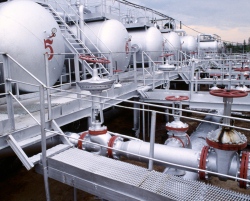 The Asia Pacific region has rapidly emerged as the largest global consumer of cumene over the last decade, thanks to changes in the petrochemical industry, states a new report by industry experts GBI Research.
The new report, "Cumene Global Market to 2020 – Phenol Derivatives from China Continue to Drive Global Demand, Further Increasing Regional Dominance", shows that global cumene demand has increased over the last decade to cater for its increased consumption in the phenol and acetone derivatives market worldwide. End-use industries such as bisphenol-A, polycarbonate and phenolic resins have applications in many industries such as packaging, construction, and pharmaceuticals, and have registered demand growth, increasing demand in turn for the raw material cumene.
Cumene is manufactured from propylene and benzene, byproducts of fossil fuel processing, and the global petrochemical markets have seen many feedstock variations since 2000. The availability of inexpensive crude oil in the Middle East, the abundant availability of coal-based processes in China, and shale gas technology in the US has revolutionized today's aliphatic industry. These changes in China and the US have reduced the reliance of petrochemicals on lighter naphtha, and this changing feedstock dynamic has impacted on the use of heavier feedstock for aromatics, such as benzene, according to GBI Research.
The Asia Pacific region has shown a boom in demand for cumene over recent years, more than compensating for slow growth in North American and European markets. The upcoming construction of more phenol and acetone derivatives plants in Asia Pacific will cause this trend to continue in the future, and the region is expected to account for 49.1% of global cumene demand by 2020. Production and demand of cumene has largely been dominated by developed countries, with the global share held by the Asia Pacific region historically due to the developed Japanese market which held a substantial market share. The report says, however, large capacity additions in the form of aromatic plants in China have led to phenomenal growth in recent years.
Changes in the petrochemicals market means that aromatics technologies are no longer confined within developed markets, and developing markets are growing at high rates. China, South Korea, Japan and Taiwan contributed a combined 85% share of regional cumene demand in 2011, and BRIC country India is expected to join these countries to majorly contribute to cumene demand growth in the region during the forecast period. Global demand for cumene grew from 8,607,235 tons in 2000 to 12,394,375 tons in 2011, and is expected to grow at a Compound Annual Growth Rate (CAGR) of 4.2% to reach to 17,988,934 tons in 2020.
Source:http://www.adsalecprj.com/Publicity/MarketNews/lang-eng/article-67002653/Article.aspx