BMW has launched the series version of its electric vehicle, the BMW i3, simultaneously in New York, London and Beijing. The BMW i3 features a carbon fibre reinforced plastic (CFRP) passenger compartment and an aluminium chassis.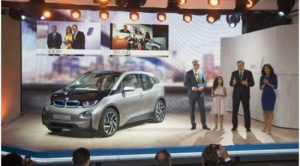 The BMW i3 is the BMW Group's first pure electric series-produced model.
The vehicle achieves a range of 130-160 km.
The BMW i3 will be released in Germany and other European markets in November 2013. The market launch of the BMW i3 in USA, China, Japan and several other markets will take place in the first half of 2014.
The base price for the BMW i3 has been set at €34,950 in Germany.
BMW says that more than 90,000 people have requested a test-drive of the BMW i3.
Market for electric vehicles growing
According to BMW, the global market for electric vehicles is likely to exceed 150,000 vehicles in 2013. Almost 93,000 electric vehicles were registered worldwide last year.
Source: www.reinforcedplastics.com