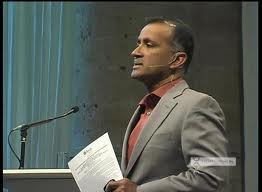 BRUSSELS : The BIR World Recycling Convention & Exhibition at Shanghai will address Asian role in globalization in its Keynote session. The keynote speaker for the Tuesday 28th May 11.30 AM is Mr. Chandran Nair-an industry expert in environmental consulting, who is the founder of the Global Institute for Tomorrow (GIFT), an independent social venture think tank based in Asia and dedicated to advancing an understanding of the impacts of globalization through thought leadership and positive action to effect change.
For more than a decade, Mr. Nair has strongly advocated a more sustainable approach to development in Asia, and has helped the governments of Taiwan and Hong Kong to instill these principles into their key decision-making processes.
He continues to advise the Hong Kong government, devising a new approach that gives the public a bigger role in key policymaking decisions. He has addressed many of these issues such as how to meet the challenges of doing business in Asia and of globalization, on investment geopolitics, leadership development, ethics, sustainability and corporate social responsibility at forums around the world.
He has been an advisor to the Prince of Wales International Business Leaders Forum, the World Wildlife Fund in Asia, and to the Jane Goodall Institute. Mr Nair is also the Chairman of Avantage Ventures, an Asian based boutique investment advisory company established in 2010. He is a visiting scholar at the Hong Kong University of Science and Technology's School of Business. He is a fellow of the Hong Kong Institute of Directors. He is also a Fellow of the Royal Society of Arts.
Source: http://www.scrapmonster.com/news/bir-recycling-convention-to-address-asian-role-in-globalization/1/8563