Optional Filtration Module Adds Capabilities to Nordson BKG™ Master-Line™ Pelletizers that Typically Are Available with Higher-Cost Systems for Compounding and Recycling
MÜNSTER, GERMANY, February 5, 2015: A new, optional belt filter for the temperature-controlled water system of Nordson BKG™ Master-Line™ underwater pelletizers reduces downtime and operator intervention by providing continuous, automated filtration of fines, it was announced today by Nordson Corp., which will display the system at NPE2015 (Booth W6263).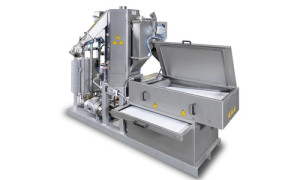 The new water filtration system also has a finer filter mesh—150 µm versus the 200 µm capability of the standard system available with Master-Line pelletizers. As a modular system that can be interchanged with the standard one, it opens the possibility of upgrading from the standard system on previously installed Master-Line equipment.
The continuously rotating filter screen is constantly cleaned by spray nozzles at one end and a scraper at the other, allowing fines to be collected in a catch basin beneath the belt. In the standard system, fines are collected on a large woven wire-mesh screen that periodically must be removed and cleaned, a process that requires stopping production.
The Master-Line pelletizer, widely used for compounding and recycling, is a compact, entry-level system with a throughput capability of up to 2,000 kg/hr. As with other underwater pelletizers, a water tank provides a flow of water through the pellet-cutting chamber. After being cut, the pellets are separated from this transport water in the dryer, and the water is filtered for removal of fines before it returns to the tank.
"The new belt-filter module provides users of Master-Line pelletizers with the finer-filtration and self-cleaning features available with our more elaborately equipped, higher-cost Combi-Line™ and Opti-Line™ pelletizers," said Adam Cowart, global product manager. "Until now, the only alternative for achieving 150-micron filtration with the Master-Line system was to install a secondary, stand-alone filter."
Website:www.nordson.com