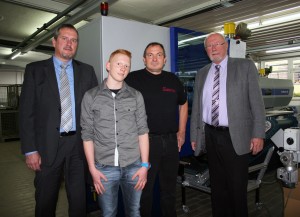 BECK Kunststofftechnik, based in Vellmar near Kassel/Germany, supplies its customers from many different industries quickly and reliably with high-quality plastic parts. They are manufactured exclusively on injection molding machines from WITTMANN BATTENFELD.
BECK Kunststofftechnik, established in 1976, follows primarily a concept of flexibility and diversity in manufacturing its products. At BECK, everything comes from a single source, from making the offer, including product development and mold-making, right up to the finished plastic part. BECK is a family-owned company managed by Matthias and Anja Beck, who employ their son Florian, their daughter Carina and 6 additional staff members, most of whom have already worked for this company for many years.
With this team, assisted by temporary staff at peak periods, the company offers a wide range of products to its customers from a great variety of industries such as the electrical, electronic and automotive industries, or manufacturers of transport equipment, household goods and advertising materials. BECK designs and builds the required molds in-house to customers' specifications. This enables the molds to be produced within only a few weeks. Quick alterations to existing molds are also possible thanks to in-house production.
The range of molds includes 2-component molds, molds with collapsing cores, molds with several slides moving one above the other, or split molds. More than a thousand molds are currently in use. Some 300 to 500 t of plastic materials are processed each year. The types of material processed are just as diverse as the molds. About 100 different materials are injection-molded at Beck.
The finished parts are also further processed in-house where necessary. In addition to assembling individual components and mounting more complex assemblies, BECK also offers screen printing, pad printing, customized packaging of any kind as well as pressing in gaskets and ball bearings. The company keeps its own truck for quick delivery of the finished parts.
The company's vital success factors, besides flexibility and diversity, are speed and high quality standards. BECK Kunststofftechnik has been certified according to DIN ISO 9001. Its market is Germany, with some of its customers also operating internationally to a certain extent. One example of this is Expresso, a market leader in transport equipment, whose luggage trolleys can be found at airports and train stations around the world.
For injection molding, Beck relies 100% on WITTMANN BATTENFELD
On a 2,500 m² production floor, BECK now has 29 injection molding machines installed, all from WITTMANN BATTENFELD. The cooperation between BECK and BATTENFELD dates back to 1987. Matthias Beck remembers how BATTENFELD impressed him at that time not only by its machine technology, but first and foremost by its excellent customer support: "BATTENFELD has gone out of its way for us during boom periods, too, and taken great care of us as customers." The injection molding machines currently installed at BECK range from 25 to 500 t in clamping force. The machinery consists mainly of toggle machines from the TM series.
In August of last year, two 55-ton machines from the EcoPower series were delivered. The machines from the EcoPower series stand out mainly by their high energy efficiency, an aspect of great significance for BECK, which is demonstrated, too, by the fact that BECK runs its own combined heat and power plant on the corporate grounds, which generates twice the power the company needs for its own operations.
Apart from their high quality, Matthias Beck appreciates the BATTENFELD machines primarily for their great flexibility in machine configuration as well as the excellent user-friendliness of both the machines and the control system. And today as much as then, Matthias Beck shows himself to be more than satisfied with the excellent service and good customer support provided by WITTMANN BATTENFELD.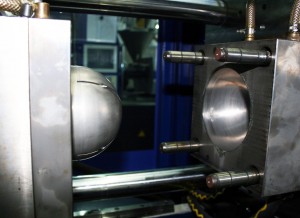 EcoPower and TM series from WITTMANN BATTENFELD
The EcoPower series stands out primarily by its high precision, speed and energy efficiency. Its extreme energy efficiency is achieved by completely utilizing the deceleration energy from its drives, which would normally be returned to the power supply network by an elaborate process, within the machine to provide the necessary voltage for the control system and for barrel heating. The savings potential compared to modern conventional hydraulic machines is between 50 and 70%, depending on the application.
The machines of the TM series come with a clamping unit offering highest precision and an ideal dynamic concept. One special feature is the free-standing tie-bars of the sturdy clamping unit. The moving platen moves along high-precision linear guides. This structure ensures exact parallelism during opening and closing as well as ultimate repeatability.