BASF will be displaying its range of specialty particle foams for packaging applications at the FachPack trade fair in Nuremberg. Among the exhibits will be molded parts made of E-por for the protective packaging of subwoofers made by the German manufacturer Adam Audio.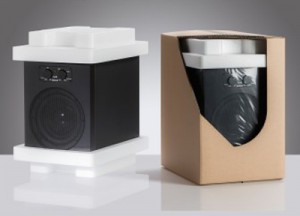 The handmade devices in the Sub8, Sub10 and Sub12 model series were previously packaged in protective pads made of non-crosslinked expanded polyethylene (EPE). Due to the elaborate way that the cut and heat-sealed parts needed to be made, this solution resulted in extended delivery times and high costs.
In addition, the cushioning pads made of EPE did not entirely cover the bottom and top areas of the subwoofer, which meant that complete protection of the valuable electronics was not guaranteed.
Told to look for alternatives, packaging company Fapack, a partner of BASF, proposed using molded cushions made of E-por. As said, the expandable polystyrene/polyethylene (PS/PE) interpolymer is tough-elastic, crack-resistant and displays high energy absorption. It is also pleasant to touch and look at and has very good resistance to solvents.
Adam Audio is satisfied with the switchover. André Zeugner, Head of Marketing at the audio expert, explains, "The cushioning pads made of E-por completely cover the top and bottom parts of the cardboard box and thus offer an improved level of protection."
At the same time, the new packaging solution delivers optimized costs thanks to the reduced amount of material required, which is also beneficial for transportation. Christoph Behrens, Managing Director of Fapack, confirms, "We were able to achieve a net volume saving with foam of 40% and thus reduce the overall size of the packaging by 24.5%."
BASF will also present other specialty particle foams, including Neopolen E, an EPE offered in the form of boards that is used primarily in recyclable packaging and reusable transport containers as well as the world's first expanded thermoplastic polyurethane (E-TPU).
FachPack 2013 will be held from September 24-26 in Nuremberg, Germany.
Source: www.adsalecprj.com/Publicity/MarketNews/lang-eng/article-67007034/Article.aspx