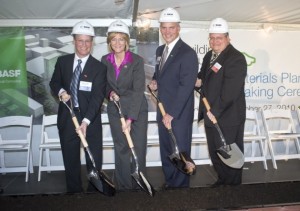 BASF is collaborating with Harvard University, the Massachusetts Institute of Technology (MIT), and the University of Massachusetts (UMass) in the North American Center for Research on Advanced Materials, an initiative to develop new materials for the automotive, building and construction, and energy industries. The cooperation is initially planned for five years.
About 20 new post-doctoral positions will be created at the three universities. The topics to be researched will be decided jointly by the researchers participating in the initiative. Topics already identified include micro- and nanostructured polymers with new properties, as well as biomimetic materials that emulate nature. For example, the scientists are working on lightweight construction materials for wind turbines and automotive construction.
The research scientists are supported and advised by a scientific committee consisting of BASF scientists together with Prof. George Whitesides and Prof. Dave Weitz from Harvard, Prof. Robert Langer and Prof. Mary Boyce from MIT and Prof. Todd Emrick and Prof. Alan Lesser from UMass Amherst. The American research initiative will build on the successful cooperation between BASF and Harvard University. During the five years' cooperation to date, 13 academic research groups have been working together with BASF scientists.
Source: http://www.reinforcedplastics.com/view/31301/basf-launches-north-american-center-for-research-on-advanced-materials