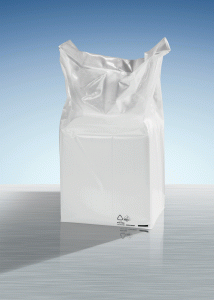 Plastic film featuring three different functional layers is being used as a new packaging concept by BASF for a pharmaceutical excipient
called Kollidon, which is made of polyvinylpyrrolidone. (PVP).
Referred to as PeroXeal, the new multi-layered and heat-sealed plastic film will protect Kollidon against contact with oxygen, making it possible to significantly reduce the peroxide level of the material, according to BASF.
"With PeroXeal, BASF is setting new standards for excipients in terms of formula stability and purity and can thus help its customers in the pharmaceuticals industry achieve higher levels of patient safety," says Dr. Boris Jenniches, head of Global Business Management PVP at BASF. "With our new packaging concept we can significantly reduce peroxide values to a level comparable with that of naturally-based raw materials. This makes Kollidon a viable alternative."

Synthetic vs natural excipients
Generally, synthetic polymer used as excipients, or inactive binders, show less variability in processing compared to natural alternatives. The shelf life of the excipient is also extended and by-products in the formulation are reduced.
The multi-layered and heat-sealed plastic film of the PeroXeal packaging system, used as an inner packaging material, is aluminum-free.
The transparent PeroXeal  film makes the NIR (Near-Infrared Spectroscopy) test possible. The packaging can remain sealed until the product is used, keeping the excipient stable.
The new packaging concept has already been introduced for the most important Kollidon products at BASF's Ludwigshafen and Minden sites in Germany. BASF will offer all grades of the Kollidon line starting in 2013 with its new packaging approach. Further details about the packaging material were not disclosed.
More than 70 years ago the BASF chemist Walter Reppe used acetylene and pyrrolidone to produce a new monomer, vinylpyrrolidone, which can be turned into the polymer polyvinylpyrrolidone.
PVP is water soluble, but is also capable of absorbing large quantities of water; it is not a skin irritant, poses no health risks, is temperature resistant, pH-stable, non-ionic and colorless, according to BASF.
Source : www.plasticstoday.com