In a latest development in the field of plastics and plastic manufacturing sector auto giant Audi AG is all set to launch its new high-efficient suspension springs that will make driving more comfortable and worthy. According to reports the newly launched spring is made-up of glass fiber-reinforced polymer for an upcoming upper-mid-size model. In order to launch the spring the company has entered into a partnership with an undisclosed Italian supplier to market the newly-launched product. Both the partners are hopeful that their collaboration will be a long-term attempt to ensure quality springs to auto makers.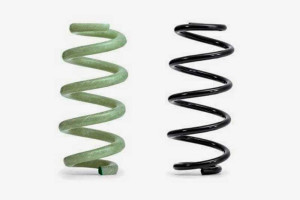 One of the peculiarities that the spring will be having is its light-weight that will make chassis handy and comfortable. According to reports from the sources the light green spring will be 40 percent lighter than the steel alternative-3.5 pounds compared to 6 pounds for the steel version. According to reports this modification will save about 9.7 pounds for four springs.
While detailing about the move Ulrich Hackenberg, a member of Audi AG's Board of Management for Technical Development says "The GFRP springs save weight at a crucial location in the chassis system. We are therefore making driving more precise and enhancing vibrational comfort,".
According to authorities from the company the spring is made and developed by wrapping glass fibers in the alternating angles around a core of twisted fibers impregnated with epoxy resin. With this modification the associated fiber strand will be thicker than the wire of a steel spring which will be having a larger diameter overall. Another important peculiarity of the fiber is that is impervious to chemicals and hence will have no corrosion effect.
While the move has been overwhelmingly welcomed by stakeholders and industry players the company is of the opinion that it is committed to produce better quality springs for their clients and there requires huge investment of energy and resources. While stressing on the need of research and development the company says there R&D is the key player for success and hence we invest huge amount of expertise and resources in developing better quality for clients.