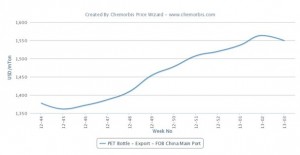 In China, overall export PET prices recorded slight decreases of $10/ton while export prices on FOB Korea basis moved down by $20/ton during this past week, as per the pricing service of ChemOrbis. However, the decrease amounts were larger on producer by producer basis as some issued $30-40/ton decreases on their offer levels. These decreases were attributed to the softer spot PTA and MEG costs although Chinese producers are still operating with negative margins.
After decreasing their prices, Chinese producers reported seeing better buying interest while most deals were concluded towards the lower end of the overall offer range. Generally, producers in that country are feeling comfortable with their current supply levels. A source from a Chinese producer commented, "Our stock levels have gone down further following our improved sales." Meanwhile, a different source from another local Chinese producer commented, "We do not expect to see further declines on prices over the near term."
The improved buying interest was also attributed to the approaching Chinese New Year as well as the decreasing prices since some buyers returned to the market to purchase ahead of the impending holiday. A PET bottle converter in China noted, "We see healthy end product demand in January and therefore, we built up some stocks."  Looking at the theoretical production costs based on spot PTA and MEG prices, Chinese producers are still operating with negative margins as the theoretical production costs are $35/ton above the low end of the current offer range, as per ChemOrbis.
As a result of this softening in Asia, Egypt's PET market, dominated mostly by Far Eastern cargoes, softened by $30-70/ton over this past week. Meanwhile, Chinese offers in Turkey also saw $10/ton decreases at the low end during this past week.