• "Evolution" exhibit tells the company's story
• Interactive: hands-on history
• Innovations, contemporary events and plastic parts spanning 90 years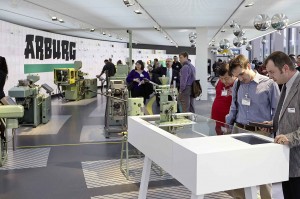 Lossburg. The completely redesigned "Evolution" exhibit at the company's headquarters in Lossburg (northern Black Forest) brings Arburg's history to life. Covering around 770 square metres, the exhibition area offers visitors an interactive approach to the company's history – from its founding in 1923 to the present. The exhibition includes injection moulding machines the Freeformer for additive manufacturing and many more innovations, historic milestones and product examples from the last 90 years. Accounts of historical events and wide-ranging multimedia content complement the exhibition.
How did Arburg become the worldwide leading manufacturer of injection moulding machines? Who are the heads of the family-owned company? Why was the first machine built from a bombed-out railway bridge? How has the brand developed over the decades? How will plastic materials be processed in 2040? – Customers will find answers to these and many more questions when they visit the modern "Evolution" exhibition at Arburg, which includes numerous exhibits and interactive touchscreen monitors.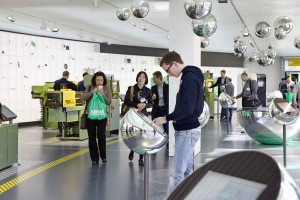 From medical devices to the Freeformer
For example, visitors will see the first medical products made in 1923, consumer goods manufactured during the Second World War, flash units from the period of the Economic Miracle and, of course, our milestones in injection moulding machine technology, right up to today's Allrounder machines and the brand new Freeformer for additive manufacturing.
The presentation is rounded off with an exhibit wall containing around 600 plastic parts, videos and so-called thematic and vision spheres. Visitors can call up detailed information on various levels, covering topics such as injection moulding processes, automation, corporate development, the brand, trade fairs and historical events, as well as taking a glimpse into the future.
About Arburg
German machine manufacturer Arburg is one of the world's leading manufacturers of injection moulding machines with clamping forces between 125 and 5,000 kN. This is complemented by robotic systems, customer- and sector-specific turnkey solutions and further peripherals. An innovative additive manufacturing system developed in-house was added to the plastic processing range in 2013.
In keeping with its motto "Arburg for efficient injection moulding", the company places the topic of production efficiency at the centre of all its activities, taking into account the entire value-added chain. The objective is to enable the Arburg customers to manufacture their plastic products, whether one-off parts or high-volume production, in optimal quality and at minimum unit costs – e.g. for the automotive and packaging industries, communication and entertainment electronics, medical technology, or the white goods sector.
An international sales and service network guarantees first-class, local customer support. Arburg is represented by its own organisations at 32 locations in 24 countries and by trading partners in more than 50 countries. The machines are produced exclusively at the parent factory in Lossburg, Germany. From a total of around 2,300 employees, around 1,900 work in Germany. About 400 further employees work in Arburg's organisations around the world. In 2012, Arburg became one of the first companies to gain triple certification: to ISO 9001 (Quality), ISO 14001 (Environment) and ISO 50001 (Energy).
Further information about Arburg can be found at www.arburg.com.