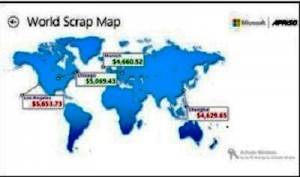 Apriso, a provider of global manufacturing software solutions, announced its Global EMI (Enterprise Manufacturing Intelligence) solution for operational intelligence and manufacturing visibility.
The enterprise software and services solution was designed from the top down to deliver complete visibility across locations and functions to enable decision-makers to better manage manufacturing operations. According to Apriso, the new Global EMI solution addresses the discontinuity between the process of managing the business and the business of managing the production process, by capturing operational data from various sources, mapping it in a rapid and consistent manner, normalizing the data, and rolling it up to allow better visibility and analysis of manufacturing operations across plants.
The company says the new solution generates visual summaries, including dashboards, reports and graphics important to manufacturing executives based on company's vast experience working with world's largest manufacturers for over 20 years. Fast, consistent measurement and reporting of business performance lets manufacturers achieve faster time to value and greater operational excellence."As the speed of business accelerates, it's even more critical to have visibility into plant operations. However, getting that information in a form you can use to direct faster, more informed decisions is a major challenge," said John Fishell, vice president of product management at Apriso. "Visibility is one thing.
Turning massive amounts of low level, granular data into meaningful and actionable intelligence is another. Information must be trusted, cleansed, summarized, reconciled and contextualized in order to make sense for making informed decisions." Apriso further elaborates the solution provides a way for businesses with multiple plants and locations to quickly access valuable operational intelligence in real time from across all plants with minimal IT involvement or deployment investment while leveraging the Microsoft BI stack, Excel as well as third-party BI tools. The company also provides faster time to value through prepackaged KPI's, analysis, measures and dimensions focused on the priorities of leading manufacturers.
Source: http://www.adsalecprj.com/Publicity/MarketNews/lang-eng/article-67004121/Article.aspx