In time for K 2013, ENGEL has expanded its range of all-electric e-motion injection moulding machines to include a tie-bar-less 30-ton version. The new ENGEL e-motion 30 TL combines maximum precision and energy efficiency with low machine weight and a compact design, thereby setting a new global standard in the manufacture of precision optical parts and electronic components.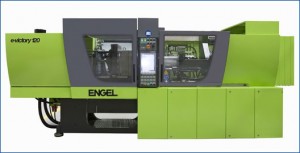 ENGEL has been constructing tie-bar-less, all-electric injection moulding machines for the small clamping force field for more than 12 years. The machine concept has now taken a major step forward with the expansion of the series. The experience of selling more than 60,000 tie-bar-less machines in the ENGEL victory and ENGEL e-victory series and the findings of extensive analyses have led to optimisation of the mechanical properties of the machine components along with a reduction in the weight of the new machine.
The most striking innovation is that the ENGEL e-motion 30 TL has a new kind of 'intelligent' frame concept in place of the double machine frame. This guarantees very high platen parallelism together with an even distribution of clamping force across the entire mould fixing platen. The sealed three-point toggle lever with maintenance-free crank mechanism works with a servomotor to facilitate very short dry cycles of well under one second.
The servoelectric ejector and mould height adjustment are integrated into the moving mould fixing platen. As with all ENGEL e-motion machines, the main movements are servoelectric; this makes it possible to synchronise parallel movements.As far as injection is concerned, the ENGEL e-motion 30 TL is equipped with the established in-line injection unit 50, which now delivers an injection speed of 800mm/s. Three barrel diameters are available as standard: D15, D18 and D20.
For optical lenses and electronic components
With a length of just three metres, the new all-electric tie-bar-less machine offers a highly compact design that saves valuable floor space in the production hall. Moreover, thanks to tie-bar-less technology, it is possible in many applications to use a smaller machine than mould size would normally dictate. With no tie-bars in the way, mould fixing platens can be used to the hilt. Tie-bar-less technology also makes mould changes easier and speeds up automation as direct parts handling is possible from the side.
Promising high precision, efficiency and flexibility, the ENGEL e-motion 30 TL is ideal for manufacturing high quality optical components and electronic parts such as connectors for mobile devices. At the same time, the high performance level of the new tie-bar-less machine offers advantages to producers of other components requiring a low clamping force.
At the K trade fair, which takes place in Düsseldorf from 16th to 23rd October 2013, ENGEL will produce 60-pin board-to-board connectors using an ENGEL e-motion 30 TL for the first time from its stand in hall 15. This is an application that demands particular precision: the distance between the pins is just 0.5mm.
Source: http://www.engelglobal.com/engel_web/global/en/22_4603.htm