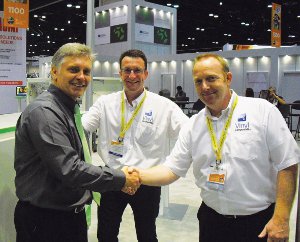 Mitsubishi Chemical Corporation (Tokyo) plans to acquire a polyvinyl chloride compound plant in Bellevue, Ohio from A. Schulman, Inc. (Akron, OH) in a move to expand the presence of its North American affiliate Mitsubishi Chemical Performance Polymers, Inc. (MCPP) in the region's polyvinyl chloride (PVC) compound market.
PVCcompounds find use in a wide range of products, including interior and exterior components for automobiles and insulation for electric wiring, which are applications MCPP will target in the North American market. Mitsubishi Chemical forecasts continuing strong demand for these products in North America and positions the region as a key market.
At the end of December 2011, Mitsubishi Chemical and A. Schulman dissolved and liquidated their North American PVC compound joint venture, and transferred the business to MCPP. Since then, MCPP has farmed out the production of polyvinyl chloride compounds to A. Schulman's Bellevue plant.
MCPP plans to purchase the Bellevue plant in order to enhance competitiveness in the PVC compound field and meet increasing demand in the North American market.
MCPP plans to capitalize on this strategic acquisition by entering into a variety of markets beyond automotive components, as well as by expanding its existing business in thermoplastic elastomers for automotive injection and extrusion applications. The purchase includes ASI's manufacturing equipment and facilities in Bellevue and should be completed by the end of November 2012.
SOURCE : http://www.plasticstoday.com/articles/schulman-sells-pvc-compounds-plant-japanese-firm-20120823a