Leading supplier of materials test equipment displays range of extrusion plastometers
DUSSELDORF – Zwick/Roell, a leading worldwide supplier of materials testing systems for the plastics industry will be exhibiting at the K Show in Dusseldorf October 16 through 23 at Messe Dusseldorf, Halls 1 to 7. Zwick Xflow extrusion plastometers offer raw material producers a suite of reliable tools to certify flow properties for their customers and to enhance testing efficiency, according to Florian Liebert, plastics product manager for Zwick.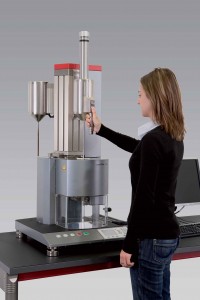 Utilized primarily in support of quality control initiatives, extrusion plastometers characterize Melt Mass-Flow Rate (MFR) and Melt Volume-Flow Rate (MVR) of thermoplastics. Quality managers take pelletized samples from live production runs to assess process integrity, as flow properties are essential to material performance in extrusion processes. "Each system within our line of extrusion plastometers is easy to use. We recognize the pace of testing in a quality control environment and have engineered the systems in the Xflow series to offer unprecedented capabilities for raw material producers, compounders and processors," Liebert said.
Assessing melt flow properties is important to thermoplastic compounders, as the results measured are a key indicator of how well the materials will perform in extrusion or injection molding processes, Liebert said. The Zwick Xflow series includes the Aflow, Mflow and Cflow systems, each with features designed to deliver value to a specific range of customers.
•The Aflow system offers advantages in time savings and optimization of lab resources. Pushbutton cleaning and defined pre-compacting routines free operators to address other tasks, while the system's automatic parameter control feature selects the test parameters and thereby minimizes measurement errors. Time-saving multi-stage tests according to ASTM D1238, Method D are also possible with a single barrel filling. The Aflow system is well-suited for large volume compounders and raw material processors that must maintain a rapid pace of testing without sacrificing accuracy.
•The Mflow system offers flexibility, as it may be fitted with extrudate cutters, a displacement transducer for MVR measurement and a weight-lifting unit. The Mflow system supports quality control programs for compounders, processors and smaller volume raw material producers.
•The Cflow system has a compact footprint and is designed for standard quality control routines. Accuracy in measurement is supported by precise temperature control and convenience in testing is made possible by the option of a manual of automated extrudate cutter.
Further information on Zwick's suite of plastics testing systems may be found on the Zwick website: http://www.zwickusa.com/en/applications/plastics.html