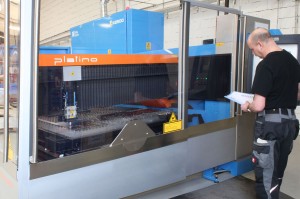 The rapid sales growth in WITTMANN materials drying and conveying units has led to the establishment of this third sheet metal forming department, based in Vienna where the most complex parts are now manufactured.
A total of 1,500 m² of production space was added to the main Viennese factory for sheet metal manufacturing. The centerpiece of the added department consists of laser cutting machinery with a cutting performance of 2.5 kW. The laser machine is able to deal with stainless steel at a width of up to 8 mm. Furthermore, trimming presses, round bending and longitudinal welding machines as well as some other processing machines are also available. This advanced suite of machines guarantees the widely known and constant quality of all WITTMANN products.
Sheet metal parts for the FEEDMAX loaders series B100, B200, B300 and B400 are now produced here, and at any level of volume production. Hopper loaders for the DRYMAX compact dryers series are also made here. The new metal forming shop is also utilized for the quick turnaround of several special components that are needed within the drying and conveying units program.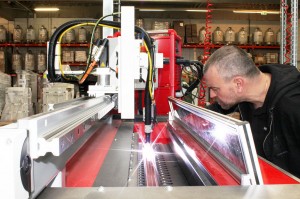 General Manager Michael Wittmann says that "at Kottingbrunn, Austria we just have expanded the production space and facilities to make large-sized WITTMANN BATTENFELD injection molding machines. In similar fashion, our new sheet metal forming shop in Vienna is a considerable investment for the future. It represents a further and positive development for the WITTMANN Group as a whole."More information: www.wittmann-group.com