WEIMA, a manufacturer of shredders and briquette presses in Germany, has recently introduced its latest WLK shredder series for all kind of plastic materials.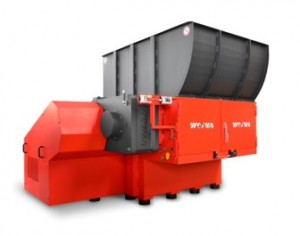 According to WEIMA, all shredders are serially equipped with swiveling screen downwards. The WLK 1000 and 2000 screens can even be lowered hydraulically to ensure easier access for screen changing or maintenance work.
Moreover, all shredders of the new WLK series standard-wise have a log-spacer. The design of the hopper in connection with larger filling volume allows shredding of very big parts without bridging effects.
Another highlight, says WEIMA, is the segmented floor guidance of the shredders. The ram which is pushing the input material to the rotor will be guided more precisely, which is ideal for very thin material like film or fiber. At the same time jamming is prevented.
WEIMA shredders can be equipped, depending on the specific application, with a V- or F-rotor. While the rotor diameter of the WLK 800 is 252mm, the WLK 1000 and 2000 shredders have a rotor diameter of 368mm.
Source: www.adsalecprj.com/Publicity/MarketNews/lang-eng/article-67006188/Article.aspx