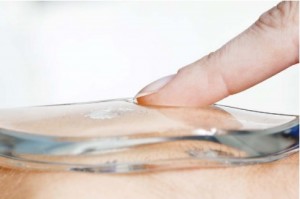 Munich, May 15, 2013 – Munich-based chemical Group WACKER is launching new silicone products for the wound dressings and  prosthetics industry at the 23rd Conference of the European  Wound Management Association (EWMA).
SILPURAN® 2112 silicone adhesive is compatible with the skin and has been developed specifically for the production of advanced wound dressings. SILPURAN® 2438 ADH silicone adhesive is suitable for bonding textiles and siliconized composites of the kind typically employed in prosthetics. This product, too, is biocompatible and skin compatible. EWMA 2103 takes place in Copenhagen, Denmark, from May 15 -17.
SILPURAN® 2112 A/B is an addition-curing silicone gel. It consists of two pourable components which cure to form a low-modulus, flexible silicone adhesive that adheres gently to the skin. The silicone adhesive is transparent, pourable and free of organic plasticizers. No byproducts are released during curing.
The silicone adhesive is so soft and flexible that it fits tightly but gently to the skin and aligns well to irregularities. As a result, the patient's skin and the silicone come into contact over a large area across which a gentle adhesion develops. Wound dressings made from SILPURAN®2112 A/B are breathable, yet water-repellent. On account of their gentle adhesion, such dressings can be removed easily without re-traumatizing the tissue. SILPURAN® 2438 ADH Silicone Adhesive The Munich-based chemical Group is also presenting SILPURAN®2438 ADH A/B at EWMA.
This addition-curing silicone rubber is cured at 80 to 120 °C after the A and B components have been mixed. The outcome is a medium-hard elastomer with a Shore A (ISO 868) value of 38. It is notable for its high tensile strength of 7 N/mm2(ISO 37) and high tear strength of 12 N/mm (ASTM D 624 B). The elastomer can be stretched up to 400 percent of its original length.
These properties make SILPURAN® 2438 ADH the perfect adhesive for immobilizing cured silicone rubbers and for flexible bonding of textile surfaces. The new adhesive can bond molded parts made from these materials without the need for priming. Due to its high tear strength, the cured silicone adhesive layer can tolerate high levels of mechanical stress, including that generated when bonded parts rub against each other.
SILPURAN® 2438 ADH can be used to create  highly flexible bonds between molded silicone parts and textiles for  use in prosthetics and orthotics. SILPURAN® 2438 ADH is pourable and can be processed both manually and in semi-automated processes. It has a pot life of one hour at room temperature, and cures to a translucent elastomer, without releasing any byproducts. Like all SILPURAN®products, SILPURAN®2438 ADH and SILPURAN®2112 are free of organic plasticizers and stabilizers.
They have passed selected tests for biocompatibility according to ISO 10993 und US Pharmacopeia, Class VI. The products are made to WACKER's own Clean Operations standard and are filled and packaged in cleanroom conditions.
More Information : www.wacker.com/pressreleases