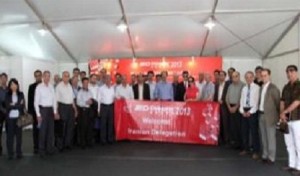 With the theme of "The Future is in Plastics and Rubber", CHINAPLAS 2013 has attracted a great number of visitor groups searching for new product potential. Some representatives of the groups talked to our Show Daily reporter.
This is the fifth time that the Iranian delegation came to CHINAPLAS. Among the 68 members this time, most of them have offices based in Dubai. The person-in-charge of the delegation, Dr Pasalar, says that he has very good experience with the previous four editions of the show. "Every edition is better than the last one," he says. "Most importantly, we got better price and better deals every year! For this year, most of our members are looking for plastics machinery."
He expects that prices for raw materials and machinery would be lower in view of the overall economic situation.There are a few visitor delegations from South Korea. One of them, from the Korean plastics and rubber recycling industry, has formed a 105-strong delegation, looking for different types of machines and raw materials. The group's representative, Sung Hoon Lee, says that they are impressed with the scale of the show and the wide variety of exhibits.
"So the members are expecting to get good results in the show," he says.Representative of Shenzhen New Material Industry Association, Wang Yuan, says: "We're more interested in finding more about the modification of polymer materials, biodegradable materials, functional polymer materials, super industrial adhesives, special rubber, engineering plastics, high performance functional membrane materials, fluorine and silicone material, high-end paint, etc.
"In addition, we also want to know more about the new materials industry, including the production and processing enterprises, trade groups and foreign enterprises in China, and so on. We look forward to developing towards integration. Next year, we plan to set up a booth at CHINAPLAS 2014."President of the Hebei Packaging Commerce, Wei Dongcheng, points out: "We took part in CHINAPLAS for totally six times, and each time was a great success, as there are many advanced equipment, raw materials and products on display.
"Hebei is a big province for the packaging industry, so we want to understand more about the new technology for this field, and also order some new, high-tech equipment so as to make our enterprises more competitive and strong."
Source: http://www.adsalecprj.com/Publicity/MarketNews/lang-eng/article-67004995/Article.aspx