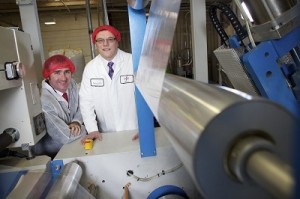 U.K.-based recycled plastics packaging firm, has secured a £150,000 (US$234,000) business loan from Finance Yorkshire, an agency that provides loan and equity linked investments to assist small and medium-sized businesses meet their funding requirements for growth and development.
Arvensis, which recycles plastic bottles into plastic sheets and packaging, was seeking financing to provide working capital following a significant increase in plastic prices.
"Due to the rise in plastic prices we were short on working capital to fulfill our substantial order book and operating at a reduced level," Stephen Dowe, Arvensis
joint managing director, says. "Our depleted working capital was restricting our growth and we needed a financial kick. This loan has meant we can satisfy our order books and look with confidence to a strong future."
Arvensis previously invested £1.25 million (US$1.948 million) in a new plant to double the production capacity of its recycled PET sheet.
"Now, with the huge steps that we have taken in plastic film extrusion and thermoforming technology, we can continue to deliver the most sustainable packaging solutions to some of Britain's best known retailers," Dowe adds.
"Our investment manager, Jonathan Craig saw how our business had been affected by the rise in plastic prices and the reasons why it would not impact on trade going forward. He was extremely supportive. The relationship we built up and the knowledge Jonathan took on board meant he could make a proper and considered decision by seeing where our business was," Dowe notes.
"This company produces specialist products that it uses within the group and that it also sells externally. It has made significant investment in the manufacturing process which will allow it to grow strongly and remain at the forefront of its sector," Craig says.
Finance Yorkshire, developed as a European initiative, is supported by grants from Yorkshire Forward's Single Programme, the European Regional Development Fund and financed from the European Investment Bank. The company is tasked with investing in businesses based or moving to areas within Yorkshire, North Lincolnshire and North East Lincolnshire, U.K.
Source : www.recyclingtoday.com