According to ChemOrbis Price Index, Turkey's import HDPE and LLDPE film prices have hit the highest levels seen after 2008 while LDPE and homo PP prices are very close to the post-2008 peaks.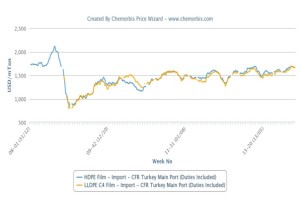 Rising feedstock costs as well as reduced supplies have steadily pulled prices higher in PP and PE markets for the past few months. Improving end product markets for several applications, particularly after March, also contributed to tightness concerns. Nevertheless, players now feel that the market has no more room to rise further as they have either hit the post-2008 highs or have been hovering around post-2008 highs particularly after June offers have all been revealed with modest hikes in Turkey's import market.
Regarding PE, average import HDPE film and LLDPE film prices have been trading at their highest levels seen since 2008. Current values are slightly above the next highest levels seen last year in March for these two products. 
In the LDPE market, average import prices saw levels above $1800/ton including duties in May 2011, marking the post-2008 record high. Since then overall import LDPE prices have traded close to the $1750/ton threshold, as has been the case recently. 
According to ChemOrbis, homo PP hit the post-2008 high in April-May 2011 with average import prices at around $1850/ton including duties. The second record was held last year in February with average prices around $1750/ton while current prices are also close to this record level.