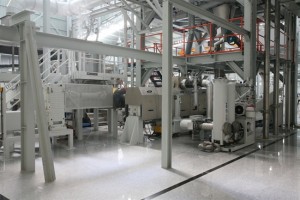 Taghleef Industries (Ti), a bi-oriented polypropylene (BOPP) film producer based in Dubai, announced a major investment in its Hungarian manufacturing plant that will boost up its 5-layer capacity in Europe.
By upgrading a 8.2m BOPP line to five layers, Ti Kft in Hungary will its five-layer film capacity in Europe to a total of 60,000 tons per year (t/y). The majority of the production is aimed at serving the In-mold labeling (IML) and the food packaging industries. Ti stressed that the five-layer film will also be used for other specific non-food applications.
The startup of the upgraded line is scheduled on June 1, 2014. It is expected to achieve energy savings in the range of 25%.
"Our continuous investment in advanced technology and manufacturing capabilities further demonstrate Ti commitment to support its growing European customer base and partners," comments Valerio Garzitto, CEO of Ti Europe.