Teknor Apex has added a new jacket compound that exhibits a low-temperature brittleness value of < -60°C to its Flexalloy PVC elastomer series for jacketing and insulation of electric vehicle (EV) charger cables.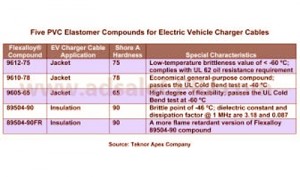 The newest product, Flexalloy 9612-75, is a 75 Shore A jacket compound that complies with the -40°C Cold Impact test requirement specified in CSA standards. It exhibits tensile strength of 2,645 psi (18.2 MPa) and elongation of 390%, and complies with the UL-62 oil resistance requirement.
"All of the Flexalloy compounds for EV charger cable are abrasion resistant, resilient, and tough even at very low temperatures, yet cost-effective for large-volume production," says Michael Roberts, Wire and Cable Industry Manager, Teknor Apex Company. "The durability and elasticity of Flexalloy PVC elastomers make them high performance alternatives to standard PVC compounds while being less expensive than premium materials like thermoplastic polyurethane."
Unlike standard flexible PVC, Flexalloy compounds are based on ultra high molecular weight PVC resin. According to the US-based material company, they exhibit improved toughness, abrasion resistance, and low temperature properties and provide elastomeric resilience and resistance to compression set. The compounds can be processed on standard PVC equipment.
The new Flexalloy 9612-75 product will be exhibited at Wire 2014, to be held in Düsseldorf, Germany from April 7-11.