Emballage 2014 – Sumitomo (SHI) Demag Plastics Machinery (France) SAS Revealing Flexibility and Functionality in Demanding Packaging Application
Efficient and economical solutions for packaging injection molding are the main applications, Sumitomo (SHI) Demag Plastics Machinery (France) SAS presents at this year's Emballage in Paris. At the stand 6 M 091, the French subsidiary of the German-Japanese machine manufacturer Sumitomo (SHI) Demag shows the professional audience the all-electric IntElect machine with an IML peel-off application.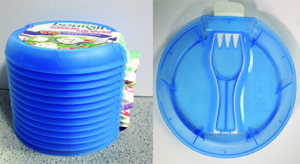 Emballage visitors can experience a sophisticated in-mold labeling (IML) application live at the booth of Sumitomo (SHI) Demag. To this effect, Rouxel SA, Saint Arnoult en Yvelines / France, has produced a four-cavity hot runner mold for manufacturing lids for food containers. The plastic lids are decorated in modern IML technology with a product and aroma-protecting peel-off function. The approximately 6-g lightweight components made of polypropylene (PP) are produced in a cycle time of approx. 4.5 s.
Heart of the production unit is an IntElect 160-680 (1600 kN), which produces the decorated lid. Other partners in this project are the French companies Sepro Robotique, La Roche-sur-Yon, along with Machines Pagès, Foncine-le-Haut, for the handling device and the IML technology.
Safety, process consistency and precision in demanding tasks with tight tolerances are characteristic features of the all-electric IntElect range. In the IntElect of Sumitomo (SHI) Demag, the electric direct drives are used that were developed, optimized for the injection molding process and also produced by Sumitomo (SHI) Demag. Compared with belt-driven electrical drives, these direct drives offer more energy efficiency and a faster responsiveness for higher accuracy, higher repeatability and, in addition to this, a cycle time benefit. Thus, electrical machinery by Sumitomo (SHI) Demag meets the particular requirements for injection molding of precision products in high volume production. The IntElect is available with eight clamping forces ranging from 500 to 4500 kN.
Sumitomo (SHI) Demag Plastics Machinery (France) S.A.S.
Emballage, 17 – 20 November 2014
Parc des Expositions Paris-Nord Villepinte, France – 6 M 091
Sumitomo (SHI) Demag Plastics Machinery (France) S.A.S.
As a plastics processor, you are faced with ever tougher international competition. Even in France, well-positioned sites are increasingly feeling the pressure in the race to cut costs. This is when technology plays the key role! Sumitomo (SHI) Demag France offers you top quality injection moulding technology. With our wide variety of products, we can supply you with the optimum solution for every application in France. Allow us to impress you with our flexibility and our short delivery times! Sumitomo (SHI) Demag's technology guarantees parts with excellent quality. In addition, our technical service is always available to you for technological upgrading, maintenance work and the provision of training.
Are you planning to diversify your activities and to decentralise your sites? If you would like to build up production capacities abroad, you can rely on our support – with injection moulding machines, advisory service and customer service. We will be at your side in Morocco, Tunisia and Algeria and provide you with customer care in the new markets of Eastern Europe, such as Poland and Slovakia. Sumitomo (SHI) Demag offers you injection moulding machines in a wide variety of types and – what is especially important – with a modular form of construction. This allows for individually designed customer solutions to be devised and simplifies updating through robots and other peripheral devices. Supported by us, you will achieve high productivity with economical systems, whether the versions are simple or extremely complex.
Website: www.polymac.org