Troisdorf, July 1, 2019 | Packaging films are often composed of a laminated composite of PET and PE. The addition of PET provides sufficient stiffness to the film for optimum secondary processing which cannot be achieved when using polyethylene alone. However, this composite is not recyclable.
Recycle – sustainable packaging with excellent barrier properties
With its well-known EVO Ultra Stretch, Reifenhäuser Blown Film is now presenting its new solution for processing poyethylene at this year's K trade fair. The film stretching system (MDO) is already being successfully used in plant for breathable backsheet films in the hygiene sector. "The positioning of the MDO in the haul-off unit is a key factor. This is unique on the market to date. The advantage lies in the fact that the plastic can be stretched using initial heat on the four to six-fold extent. This enables us to achieve a much higher process stability and lower shrink values due to the longer cooling path. The result is a recyclable film with improved sealing properties, which can sustainably replace PET," explained Eugen Fredel, Sales Director at Reifenhäuser Blown Film.
An economically and ecologically sensible alternative
The film's simple heat sealing property also allows a high degree of efficiency in the subsequent finishing process, as it can be further processed on existing finishing equipment with no adaptations required. "By adapting the EVO Ultra Stretch to mono-material laminates, Reifenhäuser Blown Film has succeeded in offering its customers an ecologically and economically sensible, high-performing alternative within packaging production.
Compared to conventional film stretching systems, the investment costs for the components are significantly lower, as are energy consumption levels due to the use of initial heat," explained Eugen Friedel. The application has already been successfully field tested by a Reifenhäuser customer. "With Reifenhäuser, you're not only buying a technically outstanding system or component. You're also getting the entire package of expertise from us, such as film recipes and processing parameters. As a result, our customers can significantly shorten their time to market and work in stable processes shortly after commissioning," added Eugen Friedel.
Visit us at K 2019 or at our in-house exhibition in Troisdorf
We will show you more technical details, functionalities, and areas of application – in ways that are innovative and digital – from October 16 to 23, when the industry comes together for the K trade fair in Düsseldorf: Hall 11, stand C22. Want to get a closer look? Then we look forward to welcoming you to our in-house fair in the Reifenhäuser technology center, Troisdorf, on
  October 17, 21, and 22.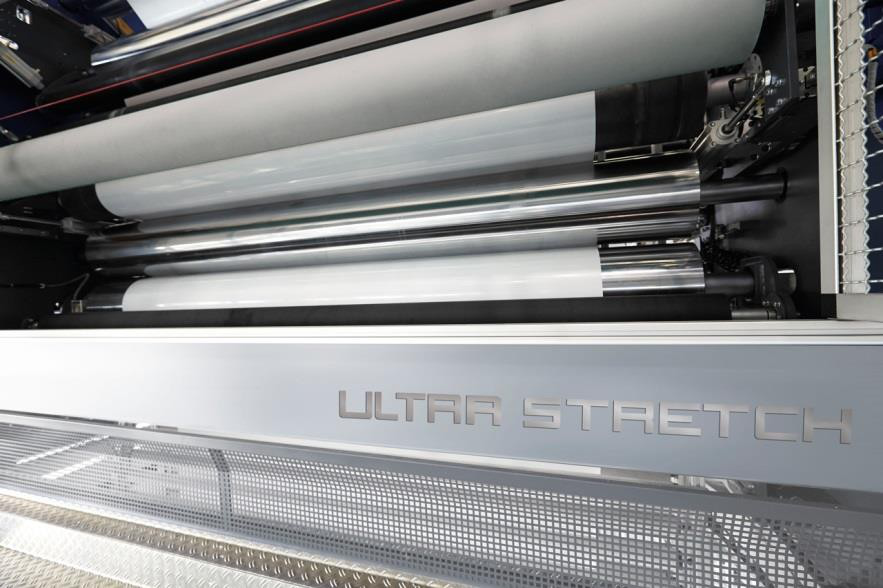 EVO Ultra Stretch – higher process stability and reduced energy consumption.
About Reifenhäuser Blown Film
Reifenhäuser Blown Film develops and manufactures modular 3 to 12-layer lines for the production of blown film of 1,000 mm to 4,300 mm width Reifenhäuser Blown Film thereby covers the entire spectrum of technologies – from the production of blown film for standard packaging and sophisticated technical films with barrier properties for food packaging through to agricultural film with a maximum film circumference of 22 meters.
About the Reifenhäuser Group
Reifenhäuser Blown Film is a member of the Reifenhäuser Group, the leading provider of innovative technologies and components for plastics extrusion. Founded in 1911, the company delivers advanced solutions to customers around the world through its highly specialized
business units. With its technologies and the know-how of its 1,600 employees, Reifenhäuser has the world's largest network of expertise in plastics extrusion technologies. The CEO of the Group is Bernd Reifenhäuser.
Reifenhäuser GmbH & Co. KG Maschinenfabrik
Spicher Strasse 46, 53844 Troisdorf, Germany
T +49 (0)2241 23510-0, F +49 (0)2241 23510-790