Tests by Eldon James Corporation, a manufacturer and custom assembler of medical tubing and fittings, showed that the connections of tubing made with Medalist TPE from Teknor Apex withstood more than double the force specified requirements.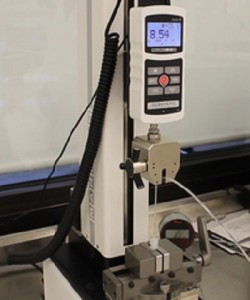 In pull-apart tests of more than 1,000 assemblies, the connections between the tubing and single-barb luer fittings, typically did not fail until forces greater than 8lb were applied, more than double the requirement set by Eldon James' customer, according to its Director of Marketing Mark Timbrook.
In burst tests, the TPE tubing withstood average pressures of 500 psi before failure.
"The elasticity of the TPE has proved to be an advantage in two ways," says Mr Timbrook. "It enhances the bond between tubing and fitting, in much the same way that the grip of a finger-trap toy tightens as you pull your fingers outward. At the same time, within the parameters of our burst test, the resilience of the TPE prevents the tubing from rupturing. While PVC tubing would burst under similar pressures, the failure of the TPE tubing took the form of bulging."
Seeking an alternative from PVC tubing as well as from the adhesives typically used for bonding it with connectors, Eldon James produced a new range of tubing from Teknor Apex's Medalist MD-585 compound and paired it with its own USP Class VI-compliant single-barb connectors.
"We've found that single-barb fittings make a better seal with TPE tubing than multi-barb connectors, one that is at least comparable in strength to that of adhesive assemblies with PVC tubing," Mr Timbrook notes.
"From the outset in developing the Medalist MD-500 Series of medical tubing compounds, Teknor Apex has had the goal of establishing these innovative TPEs as truly practical alternatives to PVC," comments Ross Van Royen, Senior Medical Market Manager for the company's Thermoplastic Elastomer Division.
Compared with PVC, the tubing compounds in the Medalist MD-500 Series exhibit comparable crystal clarity and mechanical properties, provide similar clamp resilience and resistance to kinking and necking, have a similar "feel" and are substantially more flexible and significantly less dense than PVC, according to Teknor Apex. At the same time they undergo minimal color shift upon heat aging after exposure to gamma irradiation, the most severe type of sterilization.
A typical compound in the series, Medalist MD-575, is said to exhibit 70% less heat-aged color shift than a gamma-stabilized PVC compound of comparable hardness.
Teknor Apex will present the results of the tests along with sample kits provided by Eldon James at MD&M East, to be held from June 9-12 in New York, the US.