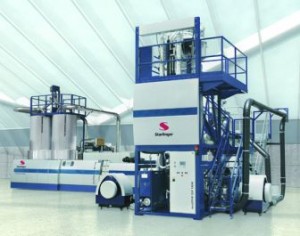 Austria-based Starlinger & Co GmbH is to display its solutions for the production of flexible woven plastic packaging as well as plastics recycling at NPE 2012.
Starlinger provides turnkey solutions for flexible plastic packaging that include tape extrusion lines, tape winders, circular looms, coating, printing and conversion lines as well as laboratory and testing equipment. Made of woven tape fabric, its packaging products include the worldwide patented Ad*Star block bottom valve sack for cement and bulk, as well as the PP*Star pinch bottom bag and the CB*Star carrier bag for end consumer applications and the newest woven*FFS sack that combines the efficient Form, Fill & Seal (FFS) filling method.
As for Starlinger's recycling technology, it comprises recycling and refining machinery solutions for PE, PP, PA, PS, BOPP and PET. According to the company, its PET recycling systems produce food-safe r-PET that is approved by various national and international authorities, such as letters of non-objection from the US Food and Drug Administration.
Meanwhile, the Starlinger viscotec technology provides Intrinsic Viscosity (IV) increase and decontamination of post-consumer recycled PET flakes and pellets. It also supplies solid stating and decontamination equipment for the production of food grade HDPE flakes. Starlinger adds that recycling lines for special applications such as film, fiber and nonwovens are also provided.
Source : www.adsalecprj.com