According to data from ChemOrbis Price Wizard, spot ethylene prices on a CFR Northeast Asia basis are currently trading with their highest premium over spot propylene prices on an FOB South Korea basis since 2008, the latest date for which data is available.
Spot ethylene prices have carried a premium over propylene prices for the full year of 2014, in marked contrast to previous years in which propylene prices tended to trade above ethylene in Asian markets.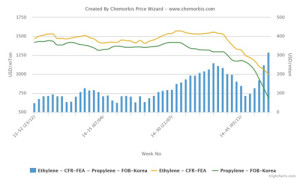 Ethylene's premium over propylene varied between approximately $50-150/ton during the first seven months of the year before the premium rose to reach levels as high as $260/ton in September. Spot propylene prices subsequently narrowed the gap, which was back below $100/ton in mid-November. However, propylene prices have been falling at a much faster rate than ethylene for the past several weeks and the premium broke a fresh record at the start of the current week by moving above the $300/ton threshold.
According to ChemOrbis, players attribute the recent sharp losses in spot propylene prices to ample supply in Asia as well as declining energy costs. Sources commented that falling propane prices were making margins more attractive for propane dehydrogenation (PDH) plants in China and that the operators of these plants have subsequently increased their operating rates. China has reportedly added around 3 million tons/year of new propylene capacity in the second half of the year, according to ChemOrbis Production News, while India and South Korea are planning to add another 1.5 million tons/year of new propylene capacit