Highlights
Sales growth of 1.8% in 2013 compared to 2012
Net profit of 22,927 Mil. KRW, an increase of 12.1% versus 2012
Strong performance in core business Polymer Stabilizers, growing 12.5% year over year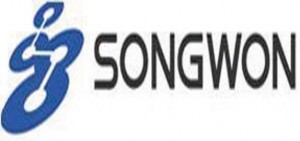 Ulsan, Korea – March 7, 2014 – Songwon Industrial Group (www.songwon.com) is pleased to announce that sales and profits continued to grow in Q4 2013, contributing to overall growth for the full year. Sales revenues reached 169,062 Mil. KRW for the fourth quarter, an increase of 11.5% on Q4 2012, contributing to total sales of 692,164 Mil. KRW for the full year 2013, an increase of 1.8% compared to 2012.
Net profits of 6,378 Mil. KRW in Q4 2013, up 59.7% on the same quarter of 2012, contributed to a 12.1% increase in profits for the full year to 22,927 Mil. KRW. The Q4 Report and the Annual Financial & Sustainability Report 2013 can be downloaded at: www.songwon.com/en/investors/financialresults.
The 2013 results will be discussed and commented at Songwon's second annual Investor Relations day taking place on March 7th in Ulsan, Korea. For further information please visit: www.songwon.com/en/investors/events. 

Hans-Peter Wüest, Chief Financial Officer and Member of the Songwon Industrial Group Executive Committee, stated: "The steady progress we made during the past years continued in 2013. We delivered consolidated revenues of 692 billion KRW (655 million USD) in 2013, an increase of 1.8% on 2012 driven by organic growth and despite the discontinuation of certain products. Our consolidated net profit of 23 billion KRW (22 million USD) increased by 12.1% compared to 2012. Our core business Polymer Stabilizers provided the engine for growth in 2013 with revenues up 12.5% over 2012. This strong performance is based on a particulary strong growth of the new HALS and thioester product groups based on back-integration (joint venture with Tangshan Baifu) and distribution agreements (Sabo)."
Jongho Park, Chairman, CEO and Head of the Songwon Industrial Group Executive Committee, said: "We have once again delivered positive results during a year of economic uncertainty and this reflects our ongoing ability to deliver organic growth. We also exited several business activities that we judged unsatisfactory in terms of competitiveness, sustainability and desired returns. As a result, the growth of our underlying core business was significantly higher than the 1.8% we have shown overall. These achievements validate our continued efforts to focus on our strategic goals, to anticipate and understand customer needs, and to deliver superior performance in term of quality and service."