Ulsan, Korea – November 20, 2012 – Songwon Industrial Co., Ltd. (www.songwon.com) and Tangshan Baifu Chemical Co. Ltd. have formalized their joint venture relationship. The new company is called Songwon Baifu Chemicals (Tangshan) Co., Ltd. and has commenced its operations on July 1, 2012. With a production capacity of 8.000 metric tons of thioester antioxidants, and the required key intermediate capacity Songwon Baifu Chemicals (Tangshan) Co., Ltd. is now fully integrated into Songwon's global operational processes.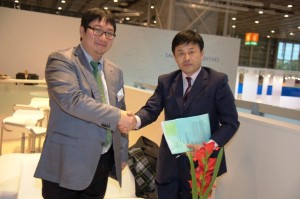 "Songwon Baifu Chemicals (Tangshan) Co., Ltd. delivers an important component to our product portfolio," stated Jongho Park, Chairman and CEO and Head of the Songwon Industrial Group Executive Committee. "We are committed to supplying the global market with a broad range of state of the art thioester products to complement our extensive range of polymer stabilizers.
Our customers will benefit from the strong technical capabilities of our partner, Tangshan Baifu Chemical Co. Ltd., who, like ourselves, has had the foresight to invest in worldscale capacity and backwards integration of key intermediates. In combination with Songwon's global reach this results in world class economics, quality and security of supply."
Weiqi Zhang, Chairman of Tangshan Baifu Chemical Co. Ltd. and now Chairman of Songwon Baifu Chemicals (Tangshan) Co., Ltd., commented: "Our strong commitment and long standing expertise in operating a world class thioester plant, is perfectly balanced with Songwon's global presence, broad product range and complementary technologies. We are very happy to be able to contribute all of Baifu's key production assets, buildings and land to the newly formed JV.
The synergies of both partners will be of great benefit to the customer having access to leading edge thioester antioxidant technology through a trustworthy, global sales and support network." Thioesters such as DLTDP, DSTDP, DTDTP and DMTDP, marketed and sold as Songnox® Thioester Antioxidants, are widely used in PE, PP, ABS, HIPS, polyester and polyamide, as well as other materials.