Hockenheim, 24 April 2014 – The Weidenhammer Packaging Group (WPG), Europe's leading supplier of composite cans, composite drums and plastic containers, has ended the 2013 business year with a positive balance. Although the economic situation in many European markets remains critical, the group increased overall sales revenues by around 2.5% to EUR 251 million (2012: EUR 245 million). Cash flow remained at the same level as the previous year.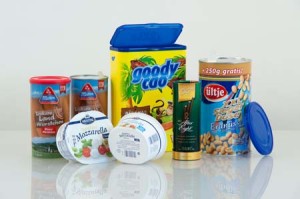 This success allows WPG to further invest in innovations and to expand its product portfolio in 2014. The focus is on extremely impermeable barrier packaging for food, as well as new developments like the NaturalCan. interpack, the world's leading trade show for the packaging industry, takes place this year in Dusseldorf, where WPG is planning to develop new product segments and geographic markets. A new plant will open in Chile in January. Despite the tenuous political situation, the Russian plant in Vladimir will also be significantly expanded.
Despite the threat of deflation in the EU, 2013 was the eighteenth consecutive year of healthy growth for WPG. "There was no guarantee of a positive balance. The market environment continues to be difficult, especially in Southern Europe. In addition, our retail customers are still under price pressure, and there are significant cost increases for personnel and energy," explains WPG CEO Ralf Weidenhammer. "We are pleased that with few exceptions almost all of our international organizations reached or even exceeded our sales targets." The number of employees remained constant at 1,100.
The Weidenhammer cardboard and plastic packaging divisions both contributed to the positive annual balance. In addition to the core business of composite cans, Weidenhammer Plastic Packaging (WPP) in Zwenkau, Germany recorded recognizable growth. "Our high-quality plastic packaging with In-Mould Labeling processes (IML) continued to perform well," explains Ralf Weidenhammer. "Last year we were able to gain some important customers, especially in the dairy products segment, which is an important growth area for us. Our plastics division has become an important pillar in our planning strategy for the future."
In 2014, WPG will continue on its current course of organic growth through new customers and markets. The aim for the current year is EUR 254 million. "We are not expecting a big increase in sales. We are working on important projects that should go into operation at the turn of 2014/2015," says Ralf Weidenhammer. "Unfortunately, the trend of the previous year is continuing: Each year we need to generate more revenue in order to achieve the same cash flow as the previous year. This means that we have to face challenging market conditions anew every day – there's no time to relax."
Positive developments in key markets
Germany remains the strongest market, with four composite can plants in Hockenheim, Lübeck and Bunde as well as the plastic container production site in Zwenkau. "Our German sites alone contributed to more than half of total sales in 2013," says Ralf Weidenhammer. "This shows the continuing importance of the local markets. We achieved further growth despite already having a large share of the German market. This proves that our investments in plants and products over the last few years are paying off."
There was also positive development in 2013 in other key European markets like Belgium, France and Great Britain. While production of snack containers at the Belgian plant in Mechelen increased significantly, the French subsidiary Neuvibox increased its revenue by around 5% despite the tight market situation. The new corporate subsidiary Weidenhammer UK in Bradford also achieved double-digit sales growth for the third year in a row. "The development of Weidenhammer UK is still very positive," says Ralf Weidenhammer. "Since it was founded in 2008, we have significantly expanded our customer base in the UK and are already at second place in the market for composite cans."
Development in 2013 proved more difficult in the Netherlands, Russia and Greece. Sales declined slightly at all three international affiliates. "The situation remains difficult, especially in Greece and Russia," says Ralf Weidenhammer. "However, we also see signs of a trend reversal: Large customer projects are pending in 2015 in both countries, which will give both subsidiaries a share in the Group profits." In 2014, WPG is even planning to expand the existing production capacity at the Vladimir site near Moscow.
First South American plant opens
Business is developing well overseas. The sole WPG plant in the United States, in Kansas, was able to expand its customer base with new products. In addition, WPG opened its first composite can plant in Santiago de Chile earlier this year. Since mid-January, WPG has produced SnackCans on a production line for Lay's stacked chips. WPG invested EUR 5 million in the 3,000-square-meter production facility, which is near the WPG customer PepsiCo and was built in a joint venture with the Chilean packaging company Empack SA Santiago. "There is excellent potential for our packaging solutions in Latin America," says Ralf Weidenhammer. "We prepared the step into this future market for a long time. We see good opportunities for growth and can foresee increasing our presence in Latin America in the coming years."
Continuous investment in plants and products
In order to continue this growth trend, WPG is investing heavily in its plants and product portfolio development. Last year, around EUR 21 million went towards plant expansion and modernization, as well as research and development. In 2014, this amount could even be exceeded if the order situation develops as expected. "We are working on several large customer projects surrounding interpack," says Ralf Weidenhammer. "We will increase our currently planned investments if these go into effect in the coming months. As the market and technology leader, we place special emphasis on ultra-modern production facilities that meet the highest standards in hygiene and quality management."
Focus on barrier packaging
Development work continues to focus on impermeable barrier packaging for food, which offers a viable alternative to tin cans and glass containers in particular. "We see a growing market demand, driven to some extent by higher legal hygiene requirements for bulk products and packaging," explains Ralf Weidenhammer. In the past few years, WPG has already brought airtight packaging solutions for food to the market. These offer a valid alternative to familiar packaging like tin cans, even for highly sensitive products. Weidenhammer's patented PermaSafe® process is one of the world's first solutions for safely packaging sensitive products like sterilized and pasteurized foods in plastic containers.
The composite can segment also includes the peel-off top can, a particularly airtight solution for safely packaging oxygen-sensitive contents like milk powder or coffee. A special metal closure is the key component. Attached directly to the body of the can, it looks like a standard tin can closure and functions in the same way. Several milk powder products in Weidenhammer peel-off top composite cans are now on the market. A specially developed peel-off top can for roasted coffee grounds has also been successfully tested, and there are already several interested parties in the coffee market.
Other new developments in 2014 include the NaturalCan, a composite can produced from highly sustainable materials. It will be unveiled to the public at this year's interpack. This innovation is WPG's response to the growing market, with a special focus on sustainable products and packaging solutions. The NaturalCan is produced using 100 percent green energy.
Sustainability: Continued development of renewable energy
WPG produces its own renewable energy on a large scale: The Group now has a total of 14 photovoltaic systems that generate 19 million kilowatt hours of electricity per year. WPG already produces enough solar electricity to cover nearly 65% of the energy requirements at their European plants. WPG has ambitious goals in the area of sustainability and wants to increase the already high percentage of renewable energy in the years to come. "As a rule, a solar system is installed in every new plant," says Ralf Weidenhammer. "We are also continuing to look for outdoor areas and rooftops to rent. Our goal is to be able to cover up to 100% of our total energy needs with solar power by 2020."
About the Weidenhammer Packaging Group
With 12 production sites, 1,100 employees and annual sales of more than EUR 250 million, the Weidenhammer Packaging Group is one of the world's two leading suppliers of composite cans, composite drums and plastic containers. Founded in Hockenheim, Germany in 1955, the family-owned enterprise has evolved over the last 55 years to become a market and technology leader in its segment. Weidenhammer customers include international brand product manufacturers Nestlé, Unilever, Kellogg's, Mondelez, Rügenwalder Mühle, Imperial Tobacco and BAT. Further information is available on the Internet:  www.weidenhammer.de/en/home.
Press Contact
Communication Harmonists GmbH & Co. KG
Thorsten Diehl
Poststraße 48
69115 Heidelberg
Deutschland
Tel. +49 6221 90574-14
Fax +49 6221 90574-11
[email protected]
www.communicationharmonists.de