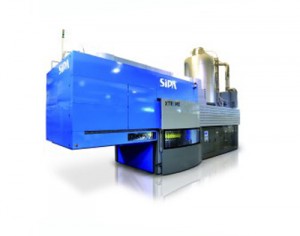 SIPA, an Italian supplier of bottle manufacturing and filling technologies, has introduced its new XTREME PET preform injection compression molding machine. The manufacturer says the machine is able to produce preforms that are up to 10% lighter than the lightest injection molded preform.
Injection compression molding overcomes the issue of filling molds with very thin walls, by having the molds slightly open when injection starts, and then closing them as dosing finishes. This means lower injection pressure can be used, lower clamp force is needed, which has the additional benefit of extending mold life, and there is less stress on the melt, meaning acetaldehyde (AA) levels are reduced, and resin intrinsic viscosity (IV) falls less.
As said, it is possible to produce preforms that are up to 10% lighter than the lightest injection molded preform without losing any key properties, while achieving a length-to-wall thickness ration (L/t) of 80.
In a conventional preform, the thickness of the base has more to do with enabling the mold cavity to fill than it has with bottle performance, but XTREME injection compression removes that constraint. As a result, it is possible to make a preform for a 500ml bottle that weighs just 6g.According to SIPA, the system is particularly well suited to production of preforms for bottles up to 1.5L in volume, but can also be used for bottles up to 2.5L.
In terms of productivity, the mold opening and closing is working on a cam, so cycle time is just a fraction of what it is on an injection molding machine. On top of all that, the equipment uses lower temperatures and 10% less energy than an injection molding system with the same output and it fits into much less space.
The XTREME system uses only pneumatic valves and the mechanical layout has numerous similarities with rotary stretch-blow molding machines. No hydraulics is used, ensuring clean production. Meanwhile, pneumatic operation has a lower sensitivity to very short power interruptions which is important for processors operating in developing countries.
SIPA says the product changeover times of the XTREME system are significantly reduced, and preform quality is higher. It is even possible to produce two different types of preform at the same time. Furthermore, preform quality control is possible with an automatic opto-electronic system.
Source:  www.adsalecprj.com/Publicity/MarketNews/lang-eng/article-67009001/Article.aspx