Greifensee, Switzerland. 2 September 2013 – A short video explains how the SafeLockTM features of the Pinmount Weigh Modules from METTLER TOLEDO help to do the installation right the first time. Each Weigh Module is delivered pre-adjusted and ready to install. The SafeLockTM protects the Weigh Module against accidental overload and ensures safety during installation. There is no need for auxiliary devices such as dead stands or dummy load cells.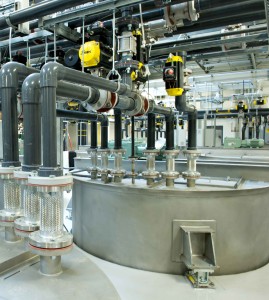 Pinmount Weigh Modules are delivered as compact units ready to be placed under the tank without any additional precaution. The SafeLockTM protects the incorporated load cell against accidental overload during the subsequent lowering of the tank onto the weigh module. In the event that a tank is lowered unevenly and rests on one single weigh module, the load cell will be able to withstand the full load. Thanks to SafeLockTM there is no need for dead stands or dummy load cells throughout the entire installation process.
Fast Installation Increases Safety
SafeLockTM immobilizes all moving parts of the weigh module and therefore facilitates precise positioning during installation. The mounting holes are directly accessible for the drilling and fastening of the bolts. This allows for immediate mounting of the tank via weigh module to the ground. This will protect it from tipping over in the event of unpredictable occurrences, e.g. strong wind forces.
Flexibility Avoids Errors and Reduces Complexity
The mounting orientation of the Pinmount Weigh Modules is flexible and allows tanks to thermally expand and contract in all directions eliminating the need for different types of weigh modules.Watch the short video about fast and save installation of a tank scale under: www.mt.com/ind-eoi-video
About METTLER TOLDEO
METTLER TOLEDO is a leading global manufacturer of precision instruments. The Company is the world's largest manufacturer and marketer of weighing instruments for use in laboratory, industrial and food retailing applications. The Company also holds top-three market positions in several related analytical instruments and is a leading provider of automated chemistry systems used in drug and chemical compound discovery and development. In addition, the Company is the world's largest manufacturer and marketer of metal detection systems used in production and packaging.