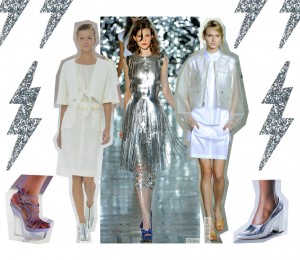 As this summer turned a corner, full tilt, into a season of ultra-femininity – forests of florals, candy floss pastels, and more lace than a Parisian bordello – there was always going to be a counter-trend in the opposite direction. A sort of centrifugal force in the contrary direction.
Newton said that 'to every action there is an equal and opposite reaction: or the forces of two bodies on each other are always equal and directed in opposite directions'. Now, I'm no physicist, but I know that fashion is, if anything, a force. And this summer, for every petal and pastel, there is an opposing metallic or high-tech riposte.
The place where this phenomena is most evident is in the multitude of shoes and handbags that are making much of sci-fi plastics and space age metallic. Just look to Phillip Lim's platinum sandals and conceptually shaped heels. And at Chanel, where everything above the ankle was a little mermaid's delight, Karl Lagerfeld shod his sirens in low-heeled silver booties that were a riff on mod footwear from the sixties – the decade when everyone was obsessed with Space: The Final Frontier.
See-through plastics and perspex accents go hand-in-hand with all this metallurgy. A pair of Maison Martin Margiela's transparent ankle boots will set you in the clear (sorry, couldn't help myself), and look spot-on with jeans. The transparent PVC and leather options from Chloe or Manolo Blahnik for Richard Nicoll are safer bets for Earth-bound girls, who maybe have office jobs. Meanwhile, Marc Jacobs gave some of his (space)cowgirl boots clear PVC windows, and the Lucite platforms that Donatella Versace's goddesses wore were made for serious partying.
Meanwhile, Emporio Armani's clear tote, Jimmy Choo's acetate clutch, or one of Louis Vuitton's see-through carry-alls will make sure you're never stuck rooting around in your bag for modern essentials.
The thing to remember with metallics is not to go overboard, or you'll end up looking like a missing member of the Jetsons family – or, worse still, a high fashion Bond villain. Try teaming a tarnished silver blazer with tailored jeans and a classic shoe, as seen at Theyskens' Theory, or wrapping a skinny silver belt over loose pale layers, as at Phillip Lim.
Alternatively, when married with the season's bolder hues of tangerine and cobalt in simple, clean lines – think cigarette pants and stiff blouses – silver becomes surprising to wear.
Shimmering metallic finishes really come into their own after dark, when they can catch the light and glow. At Giles, it was all about silver lamé (in a trouser suit and so-simple loose vest dress), and there was a stiff leather blazer that would be perfect over everything from delicate evening gowns to ripped jeans.
Source : http://www.styloko.com/womens-fashion/now-trending-modern-metallics-plastics/