Mumbai: The apex body of plastic industry Tuesday appealed to the Centre to set up plastic parks across the country and provide fund for technology upgradation of units operating in the key sector.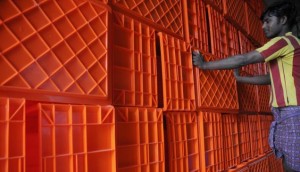 Indian plastics industry is poised for a substantial growth on the back of increasing demand from various sectors such as agriculture, automobile, engineering, infrastructure, packaging and healthcare, All India Plastics Manufacturers Association (AIPMA) President Anand Oza said here.
In view of this, the Government should come forward to set up dedicated plastic parks to house manufacturing and processing units and also Technology Upgradation Fund (TUF) on the lines of one existing for textiles sector, he said.TUF provides plan support for modernisation of textiles industry in the form of interest reimbursement and capital subsidy.
"Plastics is one of the biggest contributors to India's GDP and it is growing at 12-15 per cent per annum. We have demanded policy changes for better growth of the industry. We appeal for TUF-like status for the plastic industry from the Government," he told reporters here.
Oza said currently, plastic parks are coming up in Haryana, Rajasthan, Gujarat, Kerala and Karnataka but more such facilities are needed for the industry to flourish.AIPMA envisages an additional investment of Rs 25,000 crore for the industry in the coming years, he said.
The country's plastics consumption is expected to grow to 20 million tonnes by 2020 from the present 8 million tonnes, another official of AIPMA said.Meanwhile, in view of providing a platform for all stakeholders to discuss growth prospects of plastics industry, AIPMA is organising a trade fair, "Plastivision India" here from December 12.
Nearly 1,500 exhibitors from 30 countries are expected to take part in the five-day event, organisers said.
Source: zeenews.india.com/news/eco-news/set-up-plastic-parks-provide-technology-upgrade-fund-group_894219.html