Northboro, MA — Saint-Gobain Performance Plastics' Healthcare Markets Business Unit, a leading supplier of high-performance products for the most demanding medical applications, will launch its new silicone tubing solution, Compass Technology, to the European market at Compamed 2012, November 14-16, in Düsseldorf, Germany.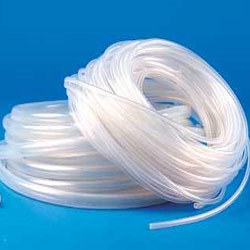 Compass Technology builds on the company's extensive experience in silicone extrusion and custom material compounding to provide customers with unparalleled quality control through real-time manufacturing metrics and superior performance compared to extruded tubes currently on the market.
"Given the increasing global demands on advanced medical devices, customers are seeking silicone tubing solutions with tighter tolerances and consistency of performance over time," said Robert D. Schwenker, Business Manager, Saint-Gobain Performance Plastics, Healthcare Markets. "To directly address these industry concerns and deliver customized solutions, we are introducing our new Compass Technology extrusion process to our customers in Europe at Compamed."
Compass Technology features a new extrusion process that enables Saint-Gobain to constantly access in-process dimensional data about its tubing solutions, ensuring product consistency for medical applications. Saint-Gobain will also leverage its custom material compounding capability with the new extrusion process to specially engineer materials that meet customers' exact performance needs. Working collaboratively to understand an application's specific needs, the company can fine-tune silicone material properties, including tear strength, compression set, tensile / elongation, modulus, and durometer.
At the show, the company will also highlight its tubing solutions that are manufactured without DEHP. Over eighteen months ago, SGPPL HealthCare Markets introduced its Tygon® ND product family, which provides a variety of tubing solutions that utilize a non-DEHP plasticizer solution. Ideal for applications that require contact with bodily fluids such as minimally invasive devices and drug delivery technologies, Tygon® ND solutions are formulated to meet REACh standards and are available in a range of durometers and plasticizers to meet customer and application requirements.
SGPPL HealthCare Markets also manufactures TYGON® S-22-216 and S-97-E, clear, non-DEHP polymer tubing solutions that offer superior peristaltic pump life, exceptional flexibility, and extremely low levels of extractables. Both products are ideally suited for critical applications where fluid administration is of primary importance, such dialysis equipment and catheters. TYGON ® S-97-E can also be used for extracorporeal membrane oxygenation (ECMO) pumps.
Visit Saint-Gobain at Compamed in Hall 8b-Booth L-08 to learn more about its new extrusion process, custom material compounding capabilities, and non-DEHP solutions.