Saudi Basic Industries Corporation (SABIC) was awarded by Ministry of Manpower in Singapore and Ministry of Labor in Thailand respectively for the Singapore's Workplace Safety and Health (WSH) Performance Award (Silver) and Thailand's Nationa's Best Safety Management Award.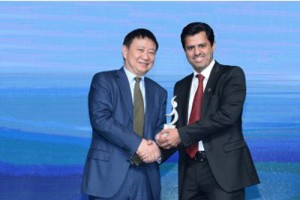 The company notes that its Safety, Security, Health and Environmental Management Standard (SHEMS) is an integrated and systematic set of standards and guidance for all SABIC facilities to manage overall business risk and to continually improve operational performance related to process safety, environment, health, occupational safety, security, and emergency preparedness.
Environment, health, safety and security (EHSS) performance in SABIC is monitored globally across more than 40 countries with over 40,000 employees through a suite of Key Performance Indicators (KPIs), focusing especially on process safety.
According to the company, its Occupational Safety and Health Administration – US (OSHA) Recordable Incidence Rate for direct hire employees has improved by 26% and the Incidence Rate including contractor employees has improved by 49%, since 2005. It has also developed a set of comprehensive metric internally that includes all types of EHSS incidents, known as SHER metric, which has seen a 73% improvement since its implementation in 2005.
Janardhanan Ramanujalu, Vice President, SABIC South Asia and ANZ, said, "'Safety first' is the culture at SABIC. Our employees care for their own safety and of their colleagues as well as of those around them in our manufacturing facilities, offices and also at customers' site every single day. Our leadership in EHSS has gone beyond compliance with employee volunteerism
in roles including SHEM element administrators, WSH committee members, first aid officers and fire wardens. The latest double award recognitions in Singapore and Thailand are strong endorsements of SABIC's commitment to continued excellence in workplace safety and health."
WSH Performance Award (Silver) was given to SABIC based on their achievement of no lost time on incidents and excellent EHSS standards at its manufacturing site in Benoi, Singapore. This was assessed through safety documentations submitted, interviews conducted with employees and onsite operations reviews conducted.
National Best Safety Management Award was awarded to SABIC's manufacturing site in Rayong, Thailand in recognition of its EHSS practices. SABIC is among a selected group of private sector companies in the Eastern Seaboard Industry Estate to have a representative on the Rayong Provincial Level EHS Committee.
Source:  www.adsalecprj.com/Publicity/MarketNews/lang-eng/article-67007015/Article.aspx