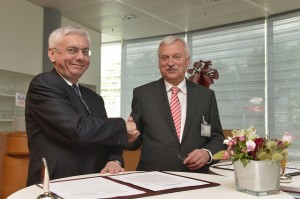 SITTARD, The Netherlands, June 23, 2012 – The Saudi Basic Industries Corporation (SABIC) and Fraunhofer-Gesellschaft, a leading German organization for applied research, signed a multiyear agreement in Sittard, the Netherlands, on June 22 to mutually develop advanced technologies into innovative solutions, meeting global needs and demands in societal areas such as light weight construction and renewable energy.
The agreement was signed by Dr. Ernesto Occhiello, SABIC Executive Vice President, Technology and Innovation, and Prof Ulrich Buller, Senior Vice President Research Planning, Fraunhofer-Gesellschaft. The strategic agreement between the two companies comprises various research areas. SABIC is especially interested in research cooperation in fields such as light weighting products including polymeric materials and composites, with applications in the automotive and aerospace industry.
SABIC also has a strong interest in solar energy technology, which SABIC strongly supports with its innovative products. Commenting on the agreement, Occhiello said, "We are proud to partner with Fraunhofer, reputed to be Europe's largest application-oriented research organization. As in the case of SABIC, the work undertaken by their researchers and developers has a significant impact on people's lives."
Occhiello added, "We have built, and are continuing to build, networks of research alliances with key global partners and innovation leaders to meet our strategic growth ambitions, address customer interest, and meet sustainability needs," Fraunhofer is Europe's largest application-oriented research organization. Their research efforts are geared entirely to people's needs: health, security, communication, energy and the environment.