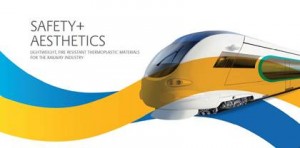 At the Innotrans in Berlin, Germany, to be held Sept. 18-21, SABIC's Innovative Plastics business will highlight new additions to its thermoplastics portfolio, including LEXAN™ and ULTEM™ sheet and resin solutions, specifically designed for the railway interiors to help our customers meet upcoming regulations.
SABIC's high performance, engineering thermoplastics product portfolio offer solutions that can meet railway interior standards and fire resistance regulations; may reduce overall system costs; and enhance the aesthetics, safety and comfort of the railway interiors.
In particular, the company will present expanded portfolio of high-performance material solutions: two new LEXAN sheet products and one new LEXAN FST resin to its already robust thermoplastics portfolio. Two new sheet products include LEXAN H6500 sheet, a new PC/ABS sheet grade that complies with
the upcoming CEN/TS 45545 harmonized standard, and LEXAN H6200 sheet, a new cost-effective grade that complies with German DIN norm. Both products have been engineered to help rail customers meet growing demand for enhanced sustainability and advanced thermoplastic technologies with non-chlorinated and non-brominated flame retardance that enhance the design and development of rail interior applications.
The new copolymer resin with high-flow capabilities, LEXAN FST resin, complies with the upcoming CEN/TS 45545 norm with the highest hazard level HL3, R5 for seating applications, allowing customers to design and produce large parts, with aesthetical surfaces.