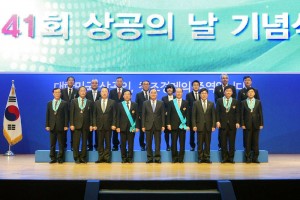 The prime minister, Yung Hong-Won, presented it to Mr Bodingbauer for contributing to Korea's industrial development and supporting foreign investments over the course of many years. Robert Bodingbauer was the only foreigner to receive an order of merit from the Korean government this year. Others who were honoured along with him included high-ranking managers from corporations such as Hyundai Motors, Samsung SHI and Posco. The Presidential Citation Award is the highest civilian accolade bestowed by the Republic of Korea and is comparable to the Decoration of Honour for Services to the Republic of Austria and the Order of Merit of the Federal Republic of Germany.
Mr Bodingbauer has worked in Asia for ENGEL since 1986. After a good number of years in Hong Kong, he moved to Korea in 2003 to take charge of the ENGEL production plant in Pyeongtaek City. He also has personal connections with Asia, as his wife is Chinese. He lives with her not far from the ENGEL plant.
ENGEL has been making injection moulding machines in the small and medium clamping force segment in Korea since 2001, and the Pyeongtaek plant plays a key role in the fast-growing markets of Asia. 70% of the machines manufactured in Korea are already exported to China and other Asian countries, and at the beginning of 2013, the site was modernised and the plant's production capacity increased significantly. A few months later, ENGEL Machinery Korea became the first foreign company to win the Korea National Quality Award. ENGEL employs a staff of over 170 in Korea.