When 3D Printing has yet to reach its full potential, digital printing technology firm EFI has developed a new technology and framework for 4D printing.Its new 4D VUTEk printer combines photopolymer additive inkjet printing with a concept-stage EFI Fiery digital front end (DFE) running PrintFlow scheduling software to control time coordinates.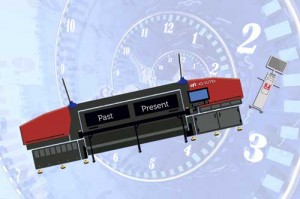 The breakthrough of this technology lies in its innovative workflow, explains EFI's CEO Guy Gecht. "While we have always offered leading-edge tools to help businesses avoid printing errors, on complex production jobs, mistakes are often unavoidable. The new 4D VUTEk printer is the first product that will actually allow the user to go back before the error is made to re-print a job correctly."
The 4D VUTEk printer allows operators to adjust their chronological position during printing. Backwards movements offer the ability to discard erroneously printed jobs in the space-time continuum and start over as if the incorrect print job never took place.
By loading their final print job design to the 4D VUTEk print engine and then moving ahead chronologically to immediately retrieve their printed products, the technology can increase productivity exponentially, said EFI.
Once retrieved, the 4D VUTEk automatically takes the user and the printed products back to point of job submission, eliminating all the production time associated with the job.
"This new technology will not only fundamentally change the market for inkjet printing of solid objects, it addresses emerging technical requirements in the digital printing industry," comments EFI Senior Research Scientist Emmitt Brown, leader of the company's 4D VUTEk printer development team. "The key breakthrough was reaching a point of high-speed processing where a job is processed before it is even submitted."
The first installation of the 4D VUTEk printer is expected to take place on April 1, 2015 at New Zealand-based Look Forward Printing.