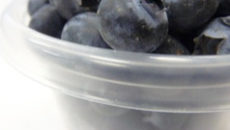 Asahi Kasei Europe GmbH (Düsseldorf, Germany) exhibited packaging solutions at Interpack 2017, also in Düsseldorf, with a focus on products that help to reduce food waste.
Mottainai is a Japanese term denoting regret for the waste of food, which became famous with Kenyan environmentalist and Nobel Prize winner, Mr. Wangari Maathai, said Asahi Kasei's information.
"As a company that originated in Japan, Asahi Kasei has a similar philosophy and tries to reduce food waste with innovative technologies," said the company.
Barrioflex premium barrier film is one of Asahi Kasei's innovations exhibited at Interpack 2017. This special film extends the shelf life of food, securing food safety and reducing food waste, said Asahi Kasei.
Some of the solutions the company exhibited include Suntec S Film Type E shrink film, an eco-friendly wrapping film for food, and Airlid plastic lidding film for pharmaceutical blister packaging.
Asahi Kasei also provides its PVDC latex X823A (a trial product), an ultra barrier coating used in pharmaceutical blister packaging, and Barrialon SF films for gas barrier performance and resistance to the passage of oxygen and water vapor to protect contents while allowing high-temperature sterilization and providing transparency.
source-:https://www.plasticstoday.com/packaging/preventing-food-waste-drives-innovations-packaging-materials/136884323856783