In Italy, PP supplies are reported to be tight in general owing to several planned or unplanned production cutbacks in Europe as per the pricing service of ChemOrbis. This week, low availability on some producers' side drove spot PP prices slightly higher especially on the low ends of the market while these gains found support from firm upstream costs and monomer shortages.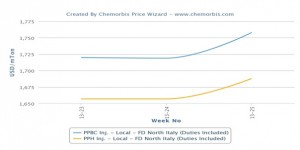 The prevailing PP price ranges in the country indicate €20/ton increases on the low end from last week, while the upper ends also gained €10/ton both for homo PP injection and PP block copolymer injection.
Increases of €10-40/ton are passing on spot done deals with respect to May levels so far this week, while a distributor offering a West European producer's materials achieved €80/ton increases over last month for both homo-PP and PPBC thanks to their low availability. "Our West European supplier has some problems at its production lines. Therefore, our supply is tight for this origin," he said, adding that he expects to see additional increases in July.
A second distributor obtained €40/ton increases over May for a different West European origin. He made similar comments regarding the overall supply situation, saying, "The PP market may record a new round of increases next month on the strength of short availability in addition to high feedstock costs, especially crude oil and naphtha prices."
In upstream markets, Brent crude oil prices for July delivery cargos rose more than $2/barrel week over week, while they represented an increase of nearly $1.5/barrel from early June. Spot naphtha costs edged up around $5/ton on CIF NWE basis in Europe, while they stand $10/ton above early June levels. As for spot propylene costs, they held steady on FD NWE basis on the week and with respect to the beginning of June.
On the other hand, several buyers think that prices have no more room to move up next month and they either believe that prices may hold steady or they hope to see some discounts. "Our supplies are comfortable. We only lifted our prices by €10/ton over May to attract some buying interest," a distributor noted.
According to the recent supply news, SABIC shut its PP plant located in Geleen, the Netherlands in the first half of June. The 250,000 tons/year plant is expected to remain offline for 10 days. Meanwhile, PropanChem brought its propane dehydrogenation (PDH) unit in Tarragona, Spain down given technical problems. The restart of the unit, which normally produces 350,000 tons/year of propylene, is slated for the end of June according to ChemOrbis.