Pliable Synres® PP Compound from Teknor Apex Enables Doellken-Woodtape to Provide an Alternative to Traditional Materials in Profiles for the Curved Edges of Office Furniture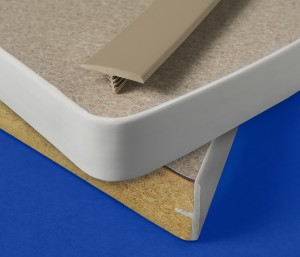 BRAMPTON, ONTARIO, CANADA, September 3, 2013: Doellken-Woodtape, a leading supplier of edgebanding to the woodworking industry, uses a new polypropylene- (PP-) based compound from Teknor Apex Company to produce T-edge profiles that provide an alternative to traditional materials for finishing curved surfaces in office furniture that is compatible with today's green building rating system and codes, it was announced today by Teknor Apex.
The Synres® PP compound used by Doellken-Woodtape for its T3™ T-edge profiles is a pliable material that provides the flexibility needed for application to the curved edges of desks, filing cabinets, and other items, providing permanent, uniform coverage even at corners with a 25 mm radius. This overcomes problems with deformation, spring-back, and stress-whitening encountered with T-edges made of other materials.
"The innovative Synres compound which we custom-formulated for Doellken-Woodtape provides a degree of flexibility not available with ABS and other common alternatives, while retaining sufficient stiffness to ensure the permanent capture of the profile barb in the furniture edge groove," said Stephan Pronovost, business director for the Specialty Compounding Division of Teknor Apex. "At the same time, the compound exhibits the impact resistance needed for longer service life."
Extrusion technology developed by Doellken-Woodtape yields profiles whose width is precisely controlled so that furniture edges are completely covered without need for trimming, according to Gene Dera, vice president of sales for Doellken-Wootdtape.
"Doellken-Woodtape takes an integrated approach to serving customers in the furniture industry, supplying both edgebanding for rectilinear shapes and T-edges for curved ones," said Mr. Dera. "Our ability to supply these products in matching colors helps customers to harmonize all of the components in each series of furniture that they manufacture."