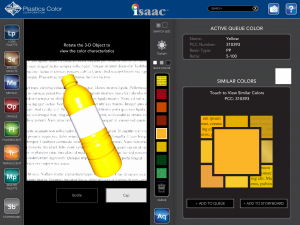 ANAHEIM, Calif., February 12, 2013 – PCC (Plastics Color Corporation), a leading supplier of color concentrates, compounds, and additive masterbatches for the plastics industry, has announced the launch of Phase II of isaac™, a web portal and standalone application that connects customers to a broad range of useful business information and resources and allows PCC customers to drastically reduce time to market by streamlining the color design and development process.  Phase I of isaac was launched last April at NPE: The International Plastics Showcase in Orlando. Phase II of isaac was demonstrated for the first time at PLASTEC West, a plastics industry tradeshow held in Anaheim, February 12-14.
isaac runs on any operating system including: iOS (iPhone®, iPad®) and Android® systems for tablets as well as PC and Mac. isaac is a value-added service for PCC customers that allows them to select from a palette of pre-approved colors and send samples electronically, design a product in real-time and share color story-boards with others in their organization. It also allows for access to a broad range of information related to all aspects of the customer/vendor relationship including data services, test-results, orders status, regulatory documents, as well as a myriad of additional information relevant to its customers.
Through a password-protected log-in, customers can access the data mentioned above customizable to a specific customer's business needs. "We are providing isaac to our customers and customize the design palettes and data for their specific needs," said Timothy Workman, PCC's VP of business development.
New capabilities included in the isaac Phase II build:
1. 3D modeling of user-selectable colors onto an object.
2. Ability to change lighting types when viewing the object
3. 360-degree rotation of the object
4. Color capturing via the tablet's rear-facing camera
5. Export of an image to the user's photo gallery and printing from the gallery
"In building the second generation of isaac we asked our customers what was important to them and what features they wanted to see included. This phase is simply another step in what we see as an ongoing way to help our customers and provide value-added services," said Workman.
About Plastics Color Corporation
Plastics Color Corporation (PCC), headquartered in Calumet City, Ill., is a global provider of colorants, compounds, additive masterbatches and custom polymer solutions for an extensive range of markets including pharmaceuticals, medical, consumer goods and others. PCC supports virtually every type of manufacturing process and material. We engage our customers from concept to commercialization and help them develop new cutting-edge products that lead the market. PCC has more than 40 years' experience in the polymer industry and operates fully-equipped product development laboratories and manufacturing facilities in California, Illinois, North Carolina, and Nanjing, China. PCC's Illinois and North Carolina labs are certified by the American Association for Laboratory Accreditation, A2LA. PCC also provides testing and product development services through our Solutions Center in Asheboro, N.C.
For more information:  www.plasticscolor.com.