The Canadian Plastic Bags Association is taking legal action to stop the City of Brossard from proceeding with a ban on plastic shopping bags this fall.
The organization issued a legal notice that describes the ban as "an abusive and unreasonable exercise of power that goes against the best interests of the city, its residents and other concerned parties."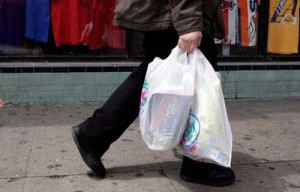 The ban is being considered by the City of Brossard's executive council and could be adopted next week.
In a news release, Marc Robitaille, president of south shore-based plastic bag maker Omniplast and a spokesman for the association, said the City of Brossard acted unilaterally and did not consult the public and other concerned parties.
"Even those most affected by the ban such as dépanneur owners and plastic bag makers and sellers, were completely excluded from the discussion," he said.
"There was no public debate on the environmental, economic and social repercussions of a total ban on plastic bags," he said.
The group said the ban is based on outdated information dating from 2007 that does not reflect the current realities of plastic bag usage and recycling.
"What they are doing is illegal, it is against the principles of sustainable development, it is reckless, it will bring harm to the people of Brossard and the economy," Robitaille told CBC Montreal.
"Paper bags have a higher carbon footprint, they're known to pollute more than plastic bags," he said.
Paper bags are also a lot more expensive and that will affect retailers' bottom line, Robitaille added.
A poll conducted by the City of Brossard in the spring of 2015 found 63 per cent of Brossard residents favoured a ban on plastic bags.
The City of Montreal is also considering a ban on plastic bags.
The city's environmental committee recommended last December that the city ban the use of plastic bags by Earth Day in 2018 in favour of reusable or recyclable bags.
Website:                              www.cbc.ca