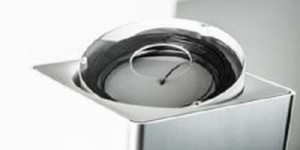 Pirate3D announced the official price of their Buccaneer 3D Printer, which at US$347 is half the price of an iPad, making it probably the world's most affordable 3D Printer."Our vision is a 3D printer in every home.
This would be impossible if the device costs a few thousand dollars," said Pirate3D's CEO Roger Chang. "We intend to build an ecosystem of innovation and creation. However we would never reach our goal if 3D printers remain as novelty items that are priced beyond the reach of the everyday consumer."
"We could have marked up our selling price and bathed in piles of cash," says Brendan Goh, Pirate3D's Chief of Operations. "We have a dream, a dream to make this technology affordable for everyone. We have been using 3D printers for a couple of years, and now find them indispensable; like how a computer or cell phone is to you.
Everyone should have access to such an essential piece of technology."As said, the Buccaneer was designed to be built using cost saving mass production & design for manufacturing (DFM) processes. Relying on stamped metal parts and extrusions, the 3D printer can be produced in bulk at low cost. In comparison, current consumer 3D printers are designed to be made in small batches.
Buccaneer has no buttons and a patent-pending design which is a top-loading cartridge with central-feeding so that it is easy to handle and load/unload for printing. It offers print quality comparable to other Fused Filament Fabrication (FFF) devices on the market, and can produce high quality 3D prints at speeds of up to 50mm/s. At maximum resolution, it prints at 100 micron layer heights. In addition, it connects wirelessly to mobile computing devices like smartphones or webpads.
Source: http://www.adsalecprj.com/Publicity/MarketNews/lang-eng/article-67004881/Article.aspx