Petainer UK Holdings Limited will present its environmentally friendly PET plastic kegs at drinktec 2013 which help drink companies to reduce costs significantly.
The lightweight kegs are available in 15L, 20L and 30L capacities for drinks including beer, cider, wine, concentrates and low pressure carbonated soft drinks. The kegs are also available in preforms, which can be distributed, blown and filled locally.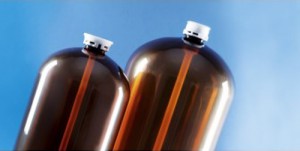 Petainer, which works with customers including Carlsberg, says the lightweight kegs cost less than 10% of the price of the alternative steel keg, and offer many other major cost, environmental and quality benefits too.
PET is much lighter than steel which allows manufacturers to test overseas markets where previously freight cost would have been prohibitive. One lorry can carry some 35,000 preforms and, in addition, more standard Petainer PET kegs can be carried than steel kegs.
Unlike steel kegs or other plastic variants, the PET kegs are recycled after use so they do not have to be cleaned, tracked, stored or maintained. As there is no need to wash them, Petainer kegs also remove the need to use cleaning chemicals and the energy costs of the cleaning process, saving 12-15L of water by every Petainer keg in a world short of usable water.
Furthermore, there is no taste taint as aluminum or other metals are not present to influence taste. Petainer says all kegs use sophisticated "barrier technologies" to restrict oxygen ingress and reduce CO2 losses. The brown pigmentation in the plastic, plus a branded cardboard outer box if required, provides UV light protection.
Petainer's Annemieke Hartman-Jemmett, Group Commercial Strategy Director, commented, "PET kegs are our future. Previously the steel keg cost was more than its contents, and brewers and drinks suppliers were losing money on every keg. Our high-tech kegs are shaking up the market and allowing brewers and drinks suppliers to deliver drinks anywhere in the world at a profit and with a greatly reduced environmental impact."
She adds that the company will also introduce other products including small container preforms, refillable and one way bottles and bisphenol A (BPA) free water coolers at drinktec 2013, which will be held from September 16-20 in Munich, Germany.
Source:  www.adsalecprj.com/Publicity/MarketNews/lang-eng/article-67007209/Article.aspx